SWU recognizes 2015 outstanding alumni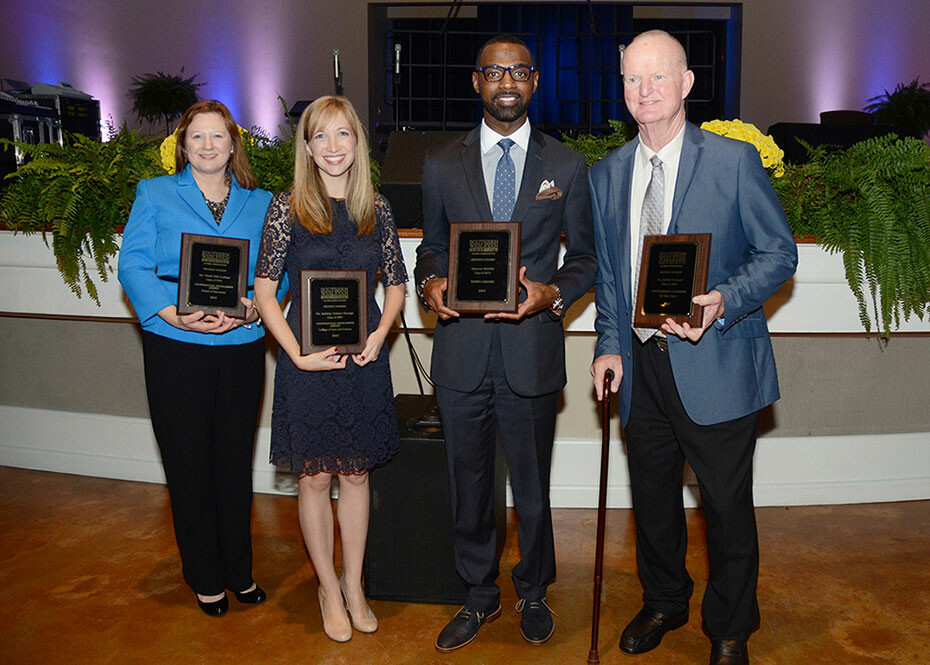 The Southern Wesleyan University Alumni Association recognized five outstanding graduates during an awards ceremony Oct. 30 at the Central campus, part of an event kicking off 2015 Homecoming festivities.
Damon Qualls, assistant principal at Berea Middle School and a 2013 graduate of the university's Greenville learning center, received the Young Leader Award. Qualls was recognized for his efforts as an advocate for funding educational needs in South Carolina's public schools. He received national attention earlier this year while sharing the stage in New York with actress Yvette Nicole Brown and comedian Stephen Colbert, who announced he was funding $800,000 in grants for South Carolina schools. Rev. Al Sharpton recently interviewed Qualls in an interview aired on MSNBC.
Dr. Vicki Luther, chair of the Early Childhood Special Education program at Middle Georgia State University and a 1992 graduate, received the Professional Excellence Award – School of Education. Luther has published in peer reviews and journals and has presented at regional and state conferences. Her research topics include teaching children of poverty, the importance of early literacy skills and strengthening university-school partnerships. While at SWU in the early 90s, Luther took seriously the university's School of Education theme of becoming world changers, having traveled extensively to countries around the world, including Russia.
Dr. Ashley Joiner George, communications professor at Samford University and a 2007 graduate, received the Professional Excellence Award – College of Arts and Sciences. George continued her education, securing both her master's and Ph.D. in communication studies. Her academic work focuses the connection between social support and health communication, in patient/provider communication, among family members experiencing health crises, and in the mental health context. Joiner, who recently accepted a tenure track position at Samford, credits her parents, Dr. Charles Joiner and Gloria Joiner, both SWU alumni, for encouraging her to advance her studies.
The Professional Excellence Award – School of Business, was presented posthumously to DePayne Middleton-Doctor, a 1994 alumna who was employed at Southern Wesleyan's Charleston learning center. Receiving the award were her parents, Rev. Leroy Middleton and his wife Frances. Doctor, who was among the victims of the Emanuel church shootings June 17 in Charleston, was an admissions coordinator at the Charleston learning center and a 1994 SWU alumna. She was recognized for her love for God, devotion to her family and love of reaching out to working adults to improve their lives through education.
Dr. Keith Connor, retired professor of physical education and longtime athletic director of the university and a graduate of the last high school class at what is now Southern Wesleyan, was named Alumnus of the Year. Connor, who served the university 46 years, held many titles and received many honors, including Professor Emeritus of Physical Education and the baseball field named in his honor. He started both a physical education major and an intercollegiate sports program. He also served as full-time athletic director from 1970 until 2007 while coaching five intercollegiate sports programs.
Each year, the university recognizes its outstanding graduates with an awards ceremony. This is the first year that an alumni awards ceremony was held in conjunction with Homecoming. To learn more about the Southern Wesleyan University Alumni Association, go to swu.edu/alumni or call the Alumni Center at (864) 644-5385.
With regional education centers conveniently located across South Carolina, as well as fully online programs for select degrees, Southern Wesleyan University is a Christ-centered, student-focused learning community devoted to transforming lives by challenging students to be dedicated scholars and servant-leaders who impact the world for Christ. For details about degree programs, visit swu.edu.
Follow SWU:
http://www.facebook.com/southernwesleyanuniversity.central
http://www.twitter.com/SWU_edu