SWU recognizes 2018 outstanding alumni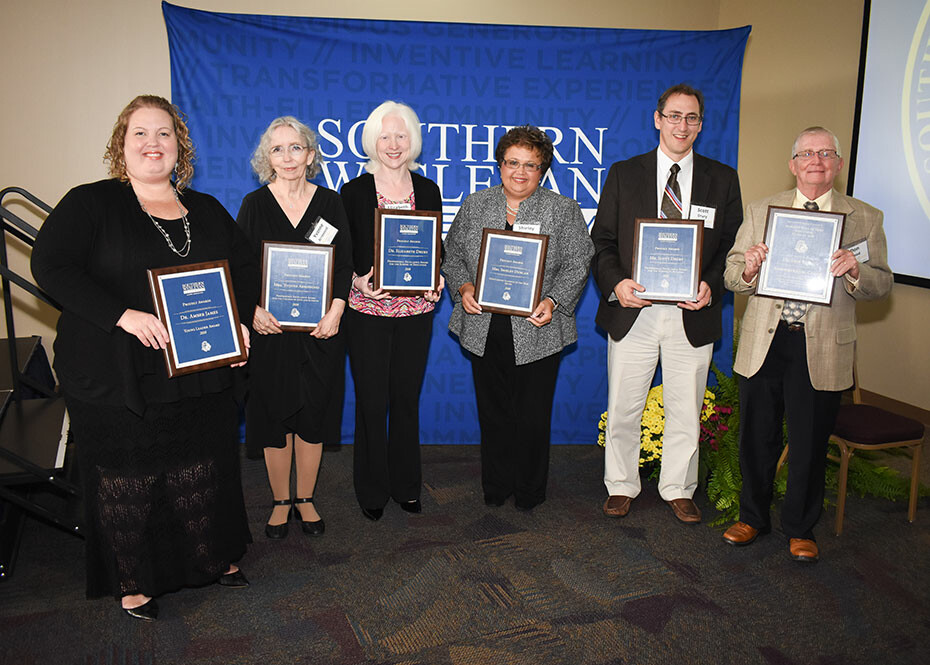 The Southern Wesleyan University Alumni Association recognized five outstanding graduates during an awards ceremony Oct. 27 at the Central campus, part of 2018 Homecoming festivities.
Mrs. Bernice Carter, who recently celebrated her 105th birthday, received the Lifetime Achievement Award. Southern Wesleyan's oldest living graduate, Carter received the award at her home in Hemingway, S.C., on Oct. 16 at a presentation by Rev. Joy Bryant. Her gracious acceptance, greetings, and prayer for the university were video recorded and shared on campus during the Oct. 27 ceremony. Carter graduated in 1952 when Southern Wesleyan was known as Wesleyan Methodist College.
Shirley Locklear Duncan was named Alumnus of the Year. Born in Lumberton, N.C., and raised in an environment of poverty and abuse, Duncan has devoted her life to ministering to children facing similar struggles. After living as a teen at Hephzibah Children's Home in Macon, Ga., Duncan attended SWU (then Central Wesleyan College), where she met her husband, David, and earned a BA in Religion. Duncan and her husband served together for many years in church ministry and adopted three daughters out of troubled circumstances. In July of 1989, Duncan returned to Hephzibah, where she served for 30 years in fundraising, public relations and child advocacy. Sharing from the wisdom that comes from experience and faith, Duncan has become a sought-after speaker at churches, schools, and retreats, and has authored the book, "I Will Go On." Duncan delivered the commencement address at SWU in Dec. 2012.
Dr. Amber James, assistant professor of music in Southern Wesleyan's Fine Arts Division, received the Young Leader Award. Prior to joining Southern Wesleyan's faculty, she taught privately and performed publicly in New York City. James earned her BA in music education from Southern Wesleyan in 2004. In 2010, she received a master of music degree in vocal performance from the University of Georgia. Earlier this year, James completed her doctorate of musical arts degree in vocal performance and pedagogy from the University of Southern Mississippi. Her students are performing in regional theater companies and theme parks, including Disney World. In addition to her teaching duties at Southern Wesleyan, James maintains a part-time studio in New York and teaches students from all over the world by Skype.
Yvonne Herd Arrowood received the Professional Excellence Award for the College of Arts and Sciences—an honor aptly given, as her career has included achievement in both the arts and the sciences. Arrowood studied Biology and Chemistry at Southern Wesleyan before transferring in 1968 to the University of South Carolina College of Pharmacy. In 2001, she received recognition by Walmart as Community Pharmacist of the Year. This pharmacy career, Arrowood quips, has funded her true lifelong passion for painting and art, interests she began cultivating formally at the age of 12. Her work has been showcased in museums and galleries at Bob Jones University, the University of North Carolina, and Furman University. She has taught private lessons and group workshops and has been the guest artist at various schools. She has painted on location at the Louvre in Paris, and in Bergamo, Italy. In 2003, Arrowood opened her home gallery, gaining media attention and inspiring her to publish "Images and Thoughts, 1961-2011." Despite a health crisis requiring major neurosurgery, Arrowood was able to complete her life-sized masterpiece, "She Stands Alone," inspired by a dusty book she bought as a child about Pilate's wife.
Dr. Elizabeth Childs Drury received the Professional Excellence Award – School of Education. After graduating from SWU in 1993 with a BA in English, Drury earned an MA in Linguistics from the University of South Carolina and a Ph.D. in Intercultural Education from Biola University. She has lived in Germany as a student and missions worker, in Costa Rica as a student, and in Hungary as a teacher at the Budapest College of Foreign Trade. Before a season of focus on raising four children, Drury designed and conducted teacher training for hundreds of ESL teachers for a Christian sending organization, Educational Services International. As director of Europe programs, she also recruited, deployed, and managed 50-60 teachers each year and negotiated contracts and relationships with European schools and government bodies. An ordained Wesleyan minister, she has served for many years in multiethnic church ministry and on various boards. She speaks and writes about intercultural dynamics, with work published by Christianity Today, the Great Commission Research Network, and others. She currently serves several Christian universities through graduate and undergraduate teaching, course design, and intercultural subject matter expertise.
Scott Drury received the Professional Excellence Award – School of Business. A 1991 Southern Wesleyan English graduate, Drury recently became the university's vice president for advancement. Drury holds a JD from the University of South Carolina School of Law and has furthered his studies in the Philosophy of Christianity and Ethics at Talbot School of Theology at Biola University. Prior to coming to Southern Wesleyan, Drury was director of resource development and at World Hope International, a Christian relief and development organization based in Washington, D.C. He has served as legal and technical advisor to the Last Well (a Liberia-focused non-governmental organization), managing director for Educational Services International (a missional teaching and outreach organization), stewardship professional and consultant for several church planned-giving programs, and private legal counsel for litigation, contract, non-profit, and estate planning clients. He also practiced law in Los Angeles and became the regional vice president for the Free Methodist Foundation. Drury began his career with teaching appointments at the Budapest College of Foreign Trade in Hungary and at the Guangdong University of Foreign Studies in China.
Also during the brunch, Chris Williams, the university's director of athletics, named two alumni into the Athletic Hall of Fame: Dr. Don Wood, a 1965 alumnus and longtime professor, now retired; and Peter Campbell, a 2005 graduate, former member of the Men's Golf Team, and winner of the 2018 Beijing Championship.
Each year, the university recognizes its outstanding graduates with an awards ceremony. To learn more about the Southern Wesleyan University Alumni Association, go to swu.edu/alumni or call the Alumni Center at (864) 644-5384.
Southern Wesleyan University is a Christ-centered, student-focused, faith-filled community that offers inventive learning experiences. The university endeavors to prepare its students to be dedicated scholars and servant-leaders who impact the world for Christ. At the same time, it's Southern Wesleyan's desire to practice contagious generosity within the surrounding community. For details about degree programs, go online to swu.edu.
Follow SWU:
https://www.facebook.com/southernwesleyan/
http://www.twitter.com/SWU_edu