SWU recognizes outstanding alumni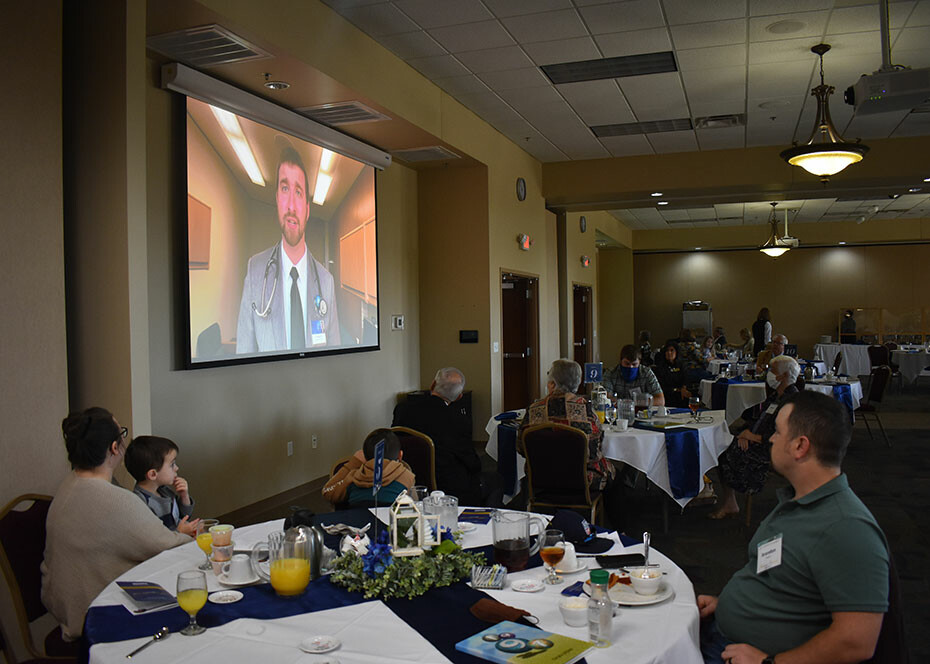 The Southern Wesleyan University Alumni Association recognized five outstanding graduates during an awards ceremony Sept. 28. The following alumni were presented with awards:
Clark Camp received an award for Professional Excellence from Southern Wesleyan's Benson School of Business. Camp is a 1997 Southern Wesleyan graduate and coaches basketball at North Mecklenburg High School in Charlotte, N.C. He's also Coordinator of CTE Pathway Development for the school. North Mecklenburg's Men's Basketball Team finished a 30-1 season in 2020, as well as becoming conference champion, regional champion and one of the nation's top high school basketball teams. After enrolling at Southern Wesleyan, then known as Central Wesleyan College, Camp was a standout player on the Men's Basketball Team, scoring more than a thousand points as a Warrior. After receiving his BS in business administration, Camp continued his studies in Southern Wesleyan's Adult and Graduate Studies program, receiving an MS in management. Camp has traveled with various ministry organizations to Romania, Hungary, Honduras, China, Switzerland and across the U.S. He has served in various capacities at North Mecklenburg High School and lives in Mooresville, N.C., with his wife Lacy and their two children. Lacy and one daughter, Darby, are actors, Darby having appeared in movies aired on Netflix, HBO and other media outlets.
Camille Stack received an award for Professional Excellence from Southern Wesleyan's College of Arts and Sciences. Stack received her music education degree and master of education degrees from Southern Wesleyan. As a student she played the cello and bass stringed instruments, performed in the musical "Annie," and traveled with the ministry team "From the Heart." She is a 21-year veteran music educator in Richland School District Two and has participated in many professional and community leadership roles as well as receiving numerous awards in the field of education. Her honors have included Greenville News Teacher of the Week and being awarded the first VH1 Save the Music Foundation grant for a $50,000 state-of-the-art keyboard lab for the state of South Carolina. She also received more than $200,000 in educational grant awards and was named "Teacher of the Year" for Windsor Elementary School. Most recently, she was named Teacher of the Year for Center for Knowledge North (2020-2021). She is an active member at Harvest Church Northeast Campus in Columbia, along with her son, Adam.
Ashley Bennett received an award for Professional Excellence from Southern Wesleyan's School of Education. Having grown up in Woodruff and now teaching math at Woodruff Middle School, Ashley Bennett demonstrates a heart for her students, evidenced in her leadership and her concern for each of the children at Woodruff Middle School. Bennett earned her master of education degree from Southern Wesleyan University and also holds a National Board of Professional Teaching Certification in Early Adolescence Mathematics. Bennett has received numerous other awards – most recently being named one of five finalists for South Carolina Teacher of the Year. She also received the Betty Dewitt Outstanding Educator Award in 2017 for her work in agriculture education and is credited with founding a local chapter of Fellowship of Christian Athletes (FCA) at Woodruff Middle School. Because many of her students have either no or limited access to the internet, Bennett's passion is raising awareness of a digital divide between urban and rural areas.
Dr. David Fipps received the Young Leader Award. Fipps graduated Summa Cum Laude from Southern Wesleyan University in 2011 and currently serves as a physician advisor to SWU students interested in pursuing a profession in medicine. While at Southern Wesleyan, Fipps was a member of the Alpha Chi national honor society and also completed a collaborative honors research project with the late Dr. Susan Rouse, who was instrumental in helping him shift his career focus to Psychiatry and Neurology. Fipps attended Lake Erie College of Osteopathic Medicine and completed a residency in Psychiatry at Prisma Health in Greenville. His research efforts resulted in his receiving the National Alliance on Mental Illness – Mental Health Professional Student Award and he also received the Greenville Health System Resident Research award for Psychiatry. Fipps was one of only six recipients of the 2019 Webb Fellowship Award from the Academy of Consultation-Liaison Psychiatry. At his residency graduation in June, he was awarded the Prisma Health Department of Psychiatry Outstanding Resident Research Award. He is currentluy pursuing a one-year Fellowship in Consultation-Liason Psychiatry at Mayo Clinic in Rochester, Minn.
Rev. Joy Bryant was named Alumni of the Year. Bryant earned her psychology degree from Southern Wesleyan University in 1992 and played on the Warriors Softball Team. She went on to receive her master of science in management in 2004 from Southern Wesleyan, then served as a clinical counselor. Ordained as a minister by The Wesleyan Church in 2014, she became passionate about sharing her Christian journey of more than 40 years. Bryant served Southern Wesleyan for 21 years as executive director of alumni and constituent relations. Following retirement, she launched into full-time grief support ministry with Duckett-Robinson Funeral Home. As an active member of ALIVE Wesleyan Church in Central, she has served in many leadership roles where chair of the Global Outreach team is her passion. Bryant has also served the South Carolina District of The Wesleyan Church on the District Board of Administration, Board of Ministerial Development, Legacy Camp and Table Rock Retreat and Conference Center. Bryant has spoken domestically and internationally at camp meetings, conferences and retreats, has a website, joy-laughter.com and is in the final phase of publishing her book, "God Talks Back."
Southern Wesleyan University is a Christ-centered, student-focused learning community devoted to transforming lives by challenging students to be dedicated scholars and servant-leaders who impact the world for Christ. For details about degree programs, go online to swu.edu.
Follow SWU:
https://www.facebook.com/southernwesleyan/
http://www.twitter.com/SWU_edu
http://pinterest.com/swuedu/
http://instagram.com/swu_edu