SWU student experiences life on Capitol Hill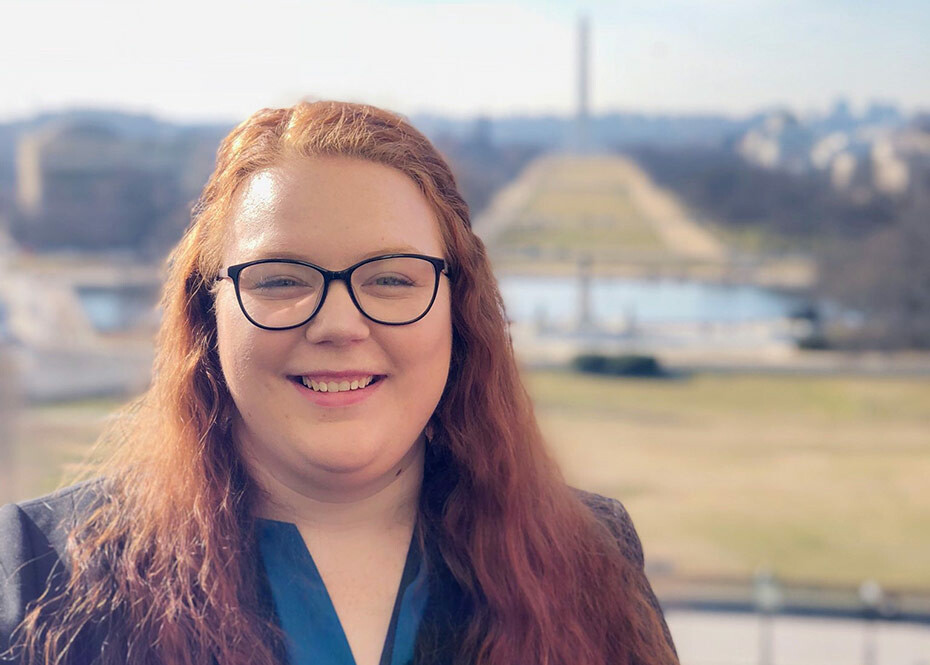 This past January, Southern Wesleyan University Criminal Justice Major Erin Harrison headed to Washington, D.C., as part of CCCU's American Studies Program, which connects students and their faith to the institutions and leaders who are impacting issues in public policy and strategic communication.
Before going to Washington, Harrison had the opportunity to meet Fourth District Congressman Trey Gowdy at his Spartanburg office, to talk with him about his views on religious liberty and the Constitution, as well as to seek out advice on civil service careers.
"Despite his busy schedule, I felt as if he was truly invested in passing on some knowledge to me, a young college student, in the short time we were able to talk," Harrison said.
From January to May, Harrison's semester was filled with experiences that took her outside classroom walls into the halls of power – interacting with people most individuals only read about or hear about in a newscast, including Vice President Mike Pence, Bill Nye the Science Guy, Conservative Political Commentator Ben Shapiro, Heisman Trophy Winner Herschel Walker, and many CEO's and corporate directors. She has attended professional briefings with Homeland Security, UnidosUS, and the Heritage Foundation and visited various embassies and congressional offices. Part of her routine included working with Third District Congressman Jeff Duncan.
"I would work a strange schedule in Washington, D.C., with a healthy balance between academics, professional development and work. On Mondays and Fridays we have class, which covers either domestic policy or foreign policy as part of our curriculum. I have studied everything ranging from immigration policy related to the DREAM Act, to the U.S.-Mexican relations in the Merida Initiative," Harrison said. "Typically, I woke up before the sun and walked about 25 minutes to work on the Hill. I spent my day there answering calls, emails and other correspondence, giving tours of the U.S. Capitol, completing projects for legislative assistants, and greeting and interacting with constituents."
When Harrison attended class, she dressed professionally, keeping up appearances appropriate to class briefings with professional organizations, whether in the class or on Capitol Hill.
In many ways, Harrison found life in Washington different from what she imagined.
"D.C. is diverse, large, bustling, and yet has a mysteriously small-town feel. There are numerous neighborhoods in the city with their own character, the people are kind and willing to help, and there is a stark contrast between Washington (federal) and D.C. (the city itself). Life in this city tends to revolve around what happens on the Hill, and yet there is so much more to it than that. I have been surprised at how much I have loved the city and how much it has forced me out of my comfort zone and to grow as an individual," Harrison said.
A first-generation college student, Harrison found Southern Wesleyan after extensively researching colleges and universities with her father.
"Everything fell into place after that, from how much I loved the campus, to meeting Professor James McDonald, to my scholarship being announced. And the rest, of course, is now history," Harrison said.
Harrison came to Southern Wesleyan with an interest in law and public policy, but after her experience in Washington, she has become aware of additional job opportunities in a variety of federal agencies.
"If my time in Washington, D.C. has taught me anything or answered any important professional questions, it is that I still do not know what I want to do," Harrison said. "I have made the decision to pursue a job for experience, though, rather than jumping straight to law school or graduate school," Harrison said. "This will allow me to really decide what I want to do, what I am good at, and what God is calling me to do."