SWU's RN to BSN: Not Your Everyday Nursing Program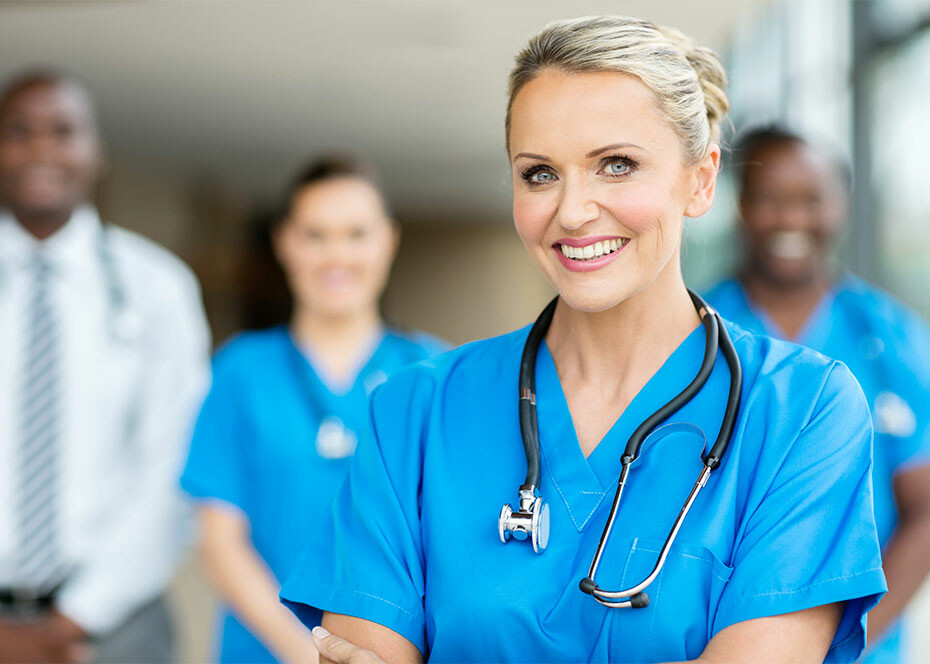 At Southern Wesleyan University, we understand the challenges working nurses face when going back to school. That's why we specifically designed our RN to BSN degree with working nurses in mind.
Our fully online RN to BSN program allows nurses to learn when it's convenient for them. We use only the latest, innovative technology to teach evidence-based nursing practices and instill a sense of community, even when earning a degree fully online.
At SWU, we understand that nurses already have years of clinical experience. Rather than facility-based clinicals, our RN to BSN program is unique in that it allows nurses to share their passion for nursing with others through the development of new community programs or volunteer work overseas. Students learn from a nationally-based faculty with expertise in the areas of evidence-based practice, population health, nursing informatics, business and health care administration, and developing the highest levels of nursing professionalism.
As with all our programs, SWU's RN to BSN degree is affordable, flexible and instills the principles of servant leadership, rooted in Christian ethics.
SWU's RN to BSN provides the added benefits of
Credentialing with the Institute of Healthcare Improvement's Open School.
Certification in Virtuous Servant Leadership.
the opportunity to study population health abroad via an international study tour option.
WHY GET A BSN?
Healthcare is changing dramatically, bringing bigger challenges and bigger opportunities for nurses.
With the growing complexity of the healthcare industry, nurses are facing increased pressure to further their education. In 2010, the Institute of Medicine (IOM) issued a report recommending that at least 80% of all registered nurses (RNs) obtain a bachelor of science in nursing (BSN) by the year 2020 [1]. In addition, RNs working within healthcare facilities seeking to obtain Magnet status are finding it difficult to advance their careers without a BSN degree.
Nurses who take the time to earn BSN degrees will earn higher salaries, have more opportunities for management and leadership positions, and will be highly desired by employers for their advanced level of education. In addition, a BSN program sharpens a nurse's leadership, critical thinking and decision-making skills, all of which are crucial in today's healthcare setting.
A bachelor's degree in nursing provides benefits to patients as well. Significantly lower mortality rates, better patient outcomes, and increased patient safety are frequently contributed to nurses with higher levels of education, specifically at the baccalaureate-level.
Read below for answers to few frequently asked questions about SWU's RN to BSN program:
How much does the program cost?
$430 per credit hour
Does SWU offer financial support?
Yes. To qualify for financial aid loans, students must carry a minimum of 6 hours each semester.
How long does the program last?
Students who take a full course load each semester can complete the program in 5 semesters if he or she has completed all the required Gen Ed courses prior to program completion.
What prerequisites are required before enrolling?
Admission requirements:
Submission of a completed application
$25 application fee
An associate degree with a major in nursing with at least 60 transferable credit hours from a regionally accredited college or university
Photocopy proof of current unencumbered RN licensure (USA)
A minimum cumulative GPA of 2.75 from all previous college studies. If an applicant's GPA is below 2.75, the student may be admitted on a conditional basis, as established by the guidelines of the Nursing Program.
Official transcripts from all previously attended colleges or universities
International transcripts must be evaluated by an approved agency. American Association of Collegiate Registrars and Admissions Officers can do this evaluation, and National Association of Credential Evaluation Services provides a list of approved agencies. From the NACES list, Southern Wesleyan recommends using World Education Services or Josef Silny.
Applicants for whom English is a second language must meet the official TOEFL score of at least 550 (paper test), 213 (computer test), or demonstrate equivalent evidence of proficiency in English, such as an overall band score of 6.0 or higher on the IELTS test.
What type of classes will I take?
Introduction and Foundation for Baccalaureate Nursing (2 courses)
Health assessment
Nursing ethics
Leadership and management
Evidence-based practice and nursing research
Nursing informatics and technology
Population health
Baccalaureate capstone
Can I receive any credits for work experience?
Not up front, but your capstone project (with prior approval) may be conducted at your current or former place of employment.
Can I transfer credits from previously completed college courses?
All or most of your prerequisite courses can be transferred. However, all nursing core curriculum courses must be completed at Southern Wesleyan University.
Will I get hands-on experience?
Yes, you will have practice exercises in a clinical setting that build toward a capstone project. The capstone project will involve working in the community with an agency or at-risk population.
How many clinical hours are required?
Clinical hours spent in practice exercises will vary by course, activity, and capstone project selection.
How much will my salary increase?
It will depend on your geographic location, place of employment, and experience level. Salary differences between associate level RN positions and baccalaureate level RN positions often range from $12,000 - $17,000 annually [2].
---
Enrollment is open. Apply today and get your competitive edge through SWU's RN to BSN program! For more information, visit our RN to BSN Program page.
---
At Southern Wesleyan University, we understand the needs and commitments of working adults. We have been providing working adults with Christ-centered educational opportunities for more than 30 years. Our programs are specifically designed to allow you to earn an associate's, bachelor's or master's degree while still meeting your personal and professional responsibilities.
Follow SWU:
https://www.facebook.com/southernwesleyan/
http://www.twitter.com/SWU_edu
---
[1] IOM (October, 2010). The Future of Nursing: Leading Change, Advancing Health. Retrieved from: http://nationalacademies.org/HMD/Reports/2010/The-Future-of-Nursing-Leading-Change-Advancing-Health.aspx
[2] eLearn Portal. RN to BSN Pay Difference. Retrieved from: http://www.elearnportal.com/resources/careers/rn-vs-bsn-pay-difference