Teacher of the Year living his lifelong career dream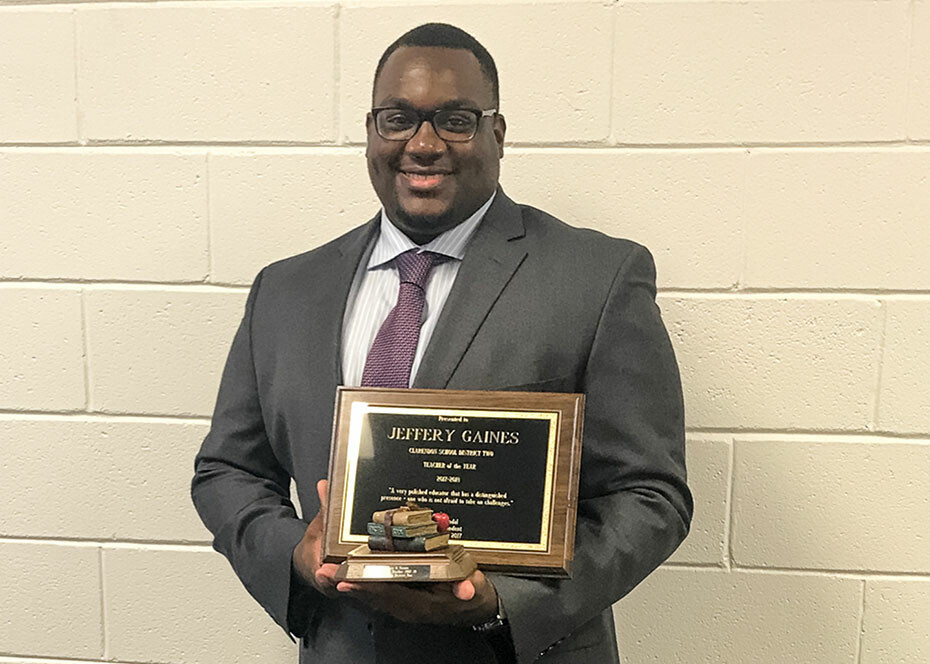 "I knew in the third-grade that I wanted to be a teacher," said Jeffery Gaines.
Gaines, a Southern Wesleyan University graduate and Barnwell native who was named Clarendon School District 2's Teacher of the Year in August, used to transform his parent's porch into a personal classroom.
"Every day after school, I taught anybody everything I learned that day in school," said Gaines. That same year, his teacher, Beverly Vaughn Anderson, who was in her first year of teaching, sparked an interest in pursuing education as a profession.
"She taught me a valuable lesson regarding multiplication facts and helping others. Until a person decides that they want to help themselves, your hands are tied," he added.
Sixth-grade was pivotal for Gaines. That's when he joined the school's band, where his teacher, Donna Cotter, fostered his creative spirit through music and inspired him to become a band teacher. From middle school through high school, Gaines recalls opportunities to gain knowledge that he continues to rely on, especially now as an assistant principal.
In 2010, while teaching band and chorus at Blackville-Hilda High School, Gaines completed his master of education program with a gifted and talented endorsement at Southern Wesleyan University in North Augusta. He didn't initially consider returning to Southern Wesleyan for another degree, but that all changed when the university began offering a master of education in administration and supervision (MEDAS) program. He received his MEDAS in 2017.
"I did not jump right in, but after relocating to Florence for a new career opportunity as band director at Southside Middle School (Florence School District One), all roads led back to SWU," Gaines said. After three years at Southside, Gaines became band and choral director at Manning High School.
Over and over, Gaines' dedication in the classroom has earned him recognition from his colleagues, having been named Teacher of the Year Finalist at Blackville-Hilda High School in Barnwell District 19, Teacher of the Year at Southside Middle School in Florence and Ambassador of the Year for Clarendon School District 2. His latest honor came in his third year of teaching band at Manning High as he was transitioning into his new assistant principal role at Manning Elementary School.
Gaines feels his Southern Wesleyan education provided for him a solid educational background, complete with theory, practice and resources. He's grateful for how his professors pushed him beyond his comfort zone and encouraged him to pursue excellence as an educator. He also appreciated how his professors were there for him before, during and after class – even after the class had met for the last time.
"From admissions to commencement, everyone you meet at SWU greets you with a smile and the spirit of Christ. SWU stands out from others because of the personal attention and connections you make with the faculty and your classmates. I absolutely loved both of my cohorts and to this day, we are all connected and remain in touch via phone, email, and social media," Gaines said. "The entire faculty at SWU goes above and beyond the call of duty. That's what makes SWU a special place – the personal attention."
Southern Wesleyan University is a Christ-centered, student-focused, faith-filled community that offers inventive learning experiences. The university endeavors to prepare its students to be dedicated scholars and servant-leaders who impact the world for Christ. At the same time, it's Southern Wesleyan's desire to practice contagious generosity within the surrounding community. For details about degree programs, go online to swu.edu.
Follow SWU:
https://www.facebook.com/southernwesleyan/
http://www.twitter.com/SWU_edu