The confidence to break barriers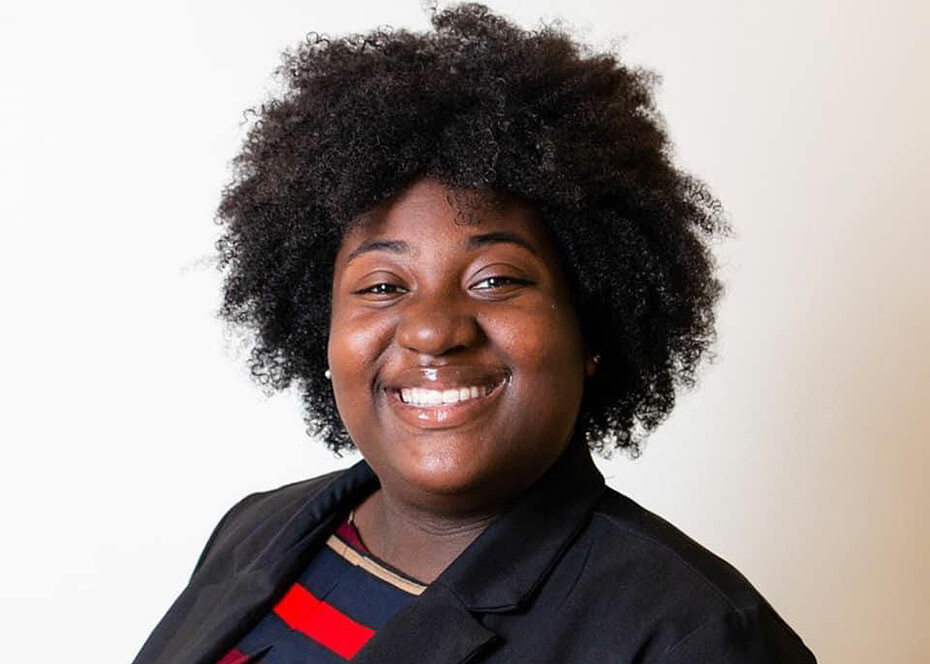 Heath Mullikin, SWU director of alumni relations, interviewed Williams for SWU Soul Stories.
For Kira Williams, medicine is both a calling and a ministry, melding her faith with what she's learning in medical school.
The daughter of first-generation college students, Kira graduated from Southern Wesleyan University in 2018 with her degree in Biology. While at Southern Wesleyan, Kira spent three years in MedEx Academy, an innovative partnership between the Greenville Health System (now Prisma Health) and the University of South Carolina for students interested in medicine or medical-related fields. After graduating from Southern Wesleyan University, she spent a year focusing on fulltime ministry as a youth pastor, supplementing her income by working for MedEx.
Kira was then accepted into the Master of Health Science degree program at Meharry Medical College, one of the nation's oldest and largest historically Black academic health science centers. In July 2019 she moved to Nashville, then recently, upon completion of her master's program, Kira was accepted into medical school there.
"I'm definitely interested in family medicine. I've seen a lot of health disparities, especially towards women of color in regard to OB-GYN. I'd love to dive deeper into that, but I'm thinking definitely primary care," said Kira, who is considering work in a rural area where there's limited access to quality healthcare.
Kira is proud of Meharry's prominent COVID-19 research efforts and sees rewarding opportunities connected with fighting this global pandemic.
"Our president is working on a vaccine; we're doing testing every day. This is a hotbed in every sense of the word for frontline COVID. Because of that, our education has been virtual, but we've had the opportunity to assist through testing or data entry," she said. "I think incorporating that research with treatment is a really sweet spot for me, because there's a lot I want to learn but there's also there's this need to actively treat. As we're treating, were learning."
Coming to SWU
Coming to Southern Wesleyan was transformative for Kira. The daughter of Mildred Williams, associate professor of psychology at the university, she would spend time in her mother's office.
"I was so shy my freshman year, then I did orientation and I was lab assistant and was in all of these different leadership roles where others saw the potential that I didn't see. A lot of our faculty saw the leadership motivation that I didn't see in myself, so they put me in these positions where I had to get a little uncomfortable, but that really grew me." Kira did an undergraduate research project with Dr. Staci Johnson, associate professor of biology and Science Division chair. As a student she has also served as a lab assistant and was involved in the S.C. Region 1 Science Fair.
"Now I'm comfortable assuming those roles naturally – that was constantly instilled in me at SWU. You go to class, then there are all these leadership roles that require you to be a little uncomfortable, but then you realize you can do it. I think SWU was definitely a cultivating place for me," Kira said.
Awesome family
Of her mother, Kira says, "She's definitely one of my biggest inspirations, for sure. She broke the mold for our family. She was first generation to go to college and with very low resources; She literally shattered the mold. My grandparents didn't have above a middle school education, so she was able to go to college and break barriers. She and my father (Rev. Dr. Roy Williams) made education a real thing, not an abstract thing. Watching her persevere through – even with her heart surgery – to get her Ph.D., is just a huge inspiration, so whenever I get overwhelmed I think about her and my dad being first generation college students, both of them pushing to get their graduate degrees – it makes everything doable. I have a genetic makeup of two overcomers in every sense of the word and they trust God in everything. If I had at least a percentage of the faith they had, I would be okay."
Not only does Kira feel her parents are a blessing, so is her twin brother Khalil, who is a gifted artist, musician and writer.
"Having one child that's more scientific and analytical and another that's more artistic and abstract definitely provides color to our family," Kira said. "I think that was also a cultivating factor for us growing up. While our parents did express the importance of education, they also allowed us to be creative and explore our interest. I think that's what has allowed us to independently thrive."
While studying at Meharry, Kira is also active in young adult ministry at Mt. Zion Baptist Church. She's also taken up running, entering a few 5k races.
Kira feels honored and blessed to be at Meharry as a medical student.
"Besides the fact this is a historically Black college and the majority of students in the class are African-American or minority students, the atmosphere felt a lot like SWU in the sense that I've never not felt supported," she said. "The population of African-American physicians is 5 percent and women physicians just 2 percent. It's powerful for me to not only work alongside minority students working towards the same goal but also to be taught by minorities who have already done it. It's just a very powerful space."
Southern Wesleyan University is a Christ-centered, student-focused learning community devoted to transforming lives by challenging students to be dedicated scholars and servant-leaders who impact the world for Christ. For details about degree programs, go online to swu.edu.
Follow SWU:
https://www.facebook.com/southernwesleyan/
http://www.twitter.com/SWU_edu
http://pinterest.com/swuedu/
http://instagram.com/swu_edu