'We all have something to teach each other'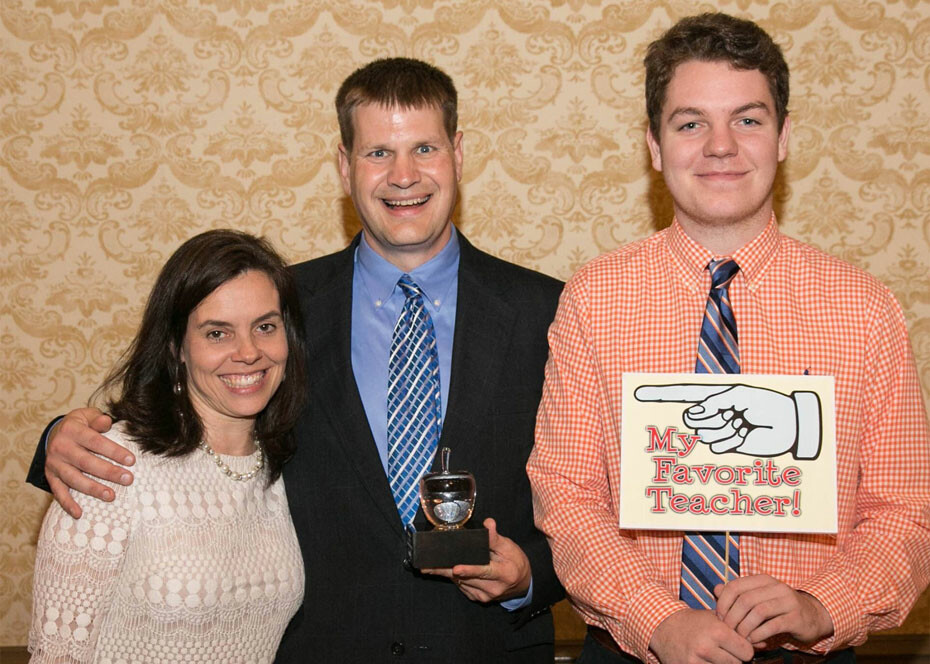 Southern Wesleyan special education graduate honored
Brian Maddux found his calling into the classroom in an unusual way.
"I kind of fell into it," he said.
Years ago, he had a pizza delivery job and went to make a delivery to a group home. Maddux was unfamiliar with those who had special needs, but someone at the home noticed how well he interacted with the residents and offered him a job.
"Through that, I ended up in Special Olympics. I just got hooked," said Maddux. "This is what I want to do with my life."
Maddux was given opportunities for a promotion, but his desire was to work directly with those who had special needs. Being in a classroom has given Maddux that opportunity.
Maddux's dedication and caring approach as a special education teacher was recognized recently by Greenville television station WYFF, who gave him a Golden Apple Award this past fall and more recently named him Golden Apple Teacher of the Year.
"I did not see it coming," said Maddux of the award he was given after judging finalists from across Upstate South Carolina and Western North Carolina. "One of our special needs students, Hugh Hill, who has intellectual disabilities, is the one that nominated me. That's probably uncommon in itself. He doesn't have the skills to write out an application, so he went to one of his peer tutors and asked if (the peer tutor) could help fill out this application to nominate Mr. Maddux."
Maddux understands well the struggles faced by his students as they try to learn life skills in his class at Woodmont. He feels his preparation to be a special education teacher was God's plan for his life.
"I barely graduated from high school but graduated with honors from college," said Maddux, who struggled with dyslexia as a student. "In high school, I had to learn study skills. I had to learn time management, and that really helped me out in college. Plus, I tried hard."
John Mauldin at Greer High School, who served as a mentor for Maddux, encouraged him to enter the education profession and to enroll at Southern Wesleyan University.
Maddux is grateful for his Southern Wesleyan education, where he found a faith-filled community and faculty who cared enough to help him succeed. At Southern Wesleyan, he received more individualized attention than he thought possible at a larger institution. Plus he feels that being in smaller classes was a huge benefit.
He especially appreciates how the late Drs. Louis Towles and Harold Waters invested themselves into his education and provided numerous opportunities for inventive learning.
Maddux said, "Dr. Towles seemed like the scariest, hardest man in the world, but inside that rough exterior was a huge heart. I was very lucky in that I was the recipient of the love and attention that his big heart had to offer. Because I had my own special needs, it was hard for me to write. It took me much longer than everyone else. He stayed after class, sometimes even hours to let me finish a test. He never shamed me or made me feel less than I was because it took me so long, he just wanted me to do my best and gave me the opportunity to do it."
"Dr. Waters was such an awesome man that I just wanted to lap up anything he could tell me or teach me. I was like, 'one day I want to grow up to be Dr. Waters'," he said.
When he graduated with his special education degree in December 2005, Maddux was able to move into an open position at Woodmont, taking the place of a teacher who left during the middle of the school year. He started a peer tutoring program where general education students began coming in to work with special education students as they learn various skills. Maddux tells the peer tutors that they will learn much from the special needs students.
"Our peer tutors take what they learn in class apprenticeships and they introduce them into their areas in the school. It's just exploded," he said.
Maddux is pleased with the level of acceptance throughout Woodmont, and also the surrounding community, saying "it is awe inspiring."
Southern Wesleyan University is a Christ-centered, student-focused learning community devoted to transforming lives by challenging students to be dedicated scholars and servant-leaders who impact the world for Christ. For details about degree programs, go online to swu.edu.
Follow SWU:
https://www.facebook.com/southernwesleyan/
http://www.twitter.com/SWU_edu