It's more than our name or logo. It's the way we look, act, and speak. It's what we're all about.
When you think of a brand, you may first think of logos, colors, or taglines. But those are just tools to reflect the brand. A brand is so much more complex than a logo or color palette. An organization's brand is living, dynamic, multifaceted, and continually evolving. It can mean different things to different people. A brand is the total experience — perceptions, expectations, and emotional connections — that someone has with an organization.
The SWU brand strategy defines who we are, our attributes, brand personality, and brand voice. Our brand encompasses what makes SWU better and special.
---
Brand Essence
Because the brand essence articulates what we stand for, it must be compelling, authentic, focused, and meaningful. It becomes the filter for everything we say and do.
When people ask about Southern Wesleyan University, what do you say?
It's important for each of us to give a consistent answer. Our response should cover what we do and how it benefits our students at a high level. It should also give enough detail to communicate who we are.
Think of it as a starting place for a deeper conversation about SWU. It gives someone who is interested an opening to ask for more specifics, but it also gives someone who doesn't want to know more a general overview of SWU without a lot of unnecessary detail. Below is a conversational way to describe what Southern Wesleyan University stands for and how we stand out.
We transform minds and lives of students with inventive learning and faith-filled community to develop dedicated scholars and servant-leaders defined by integrity, values, and generosity.
---
Message Map
The message map organizes what we say into a hierarchy to ensure that our communications are clear, consistent, and compelling.
When we communicate, we basically have two choices: the facts (attributes) or the "so what" behind the facts (benefits). There are certain messages that are our best talking points and are core to our value. Here's a map to help you communicate about Southern Wesleyan with messaging that tells our best story.

---
Brand Personality
Our personality sets the tone for how our brand communicates. It articulates the ways we want our audiences to think and feel about our brand. These six personality traits serve as a useful filter to drive the voice and imagery for all brand communications.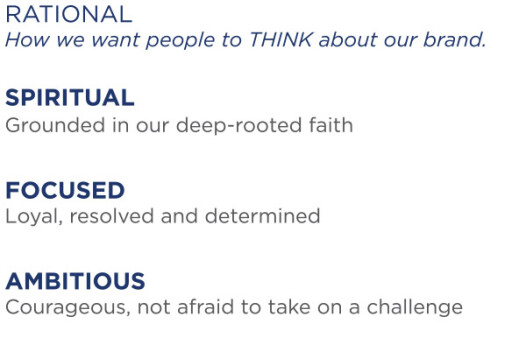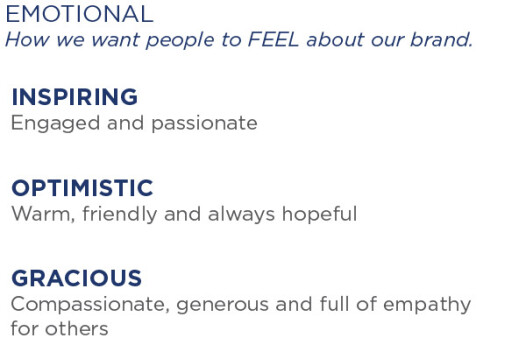 ---
Brand Voice
It's how we reinforce the Southern Wesleyan University brand.
Whether it's an admission brochure, copy on a website, or a poster headline, our voice is what gives us a recognizable style that is uniquely Southern Wesleyan and embodies who we are.
Between what we say and how we say it, we create a recognizable style that is distinctly Southern Wesleyan — our voice. And now more than ever, voice is critical. To be heard, we have to get to the point and stand out from the crowd. Our goal is simple: develop focused communications that make our distinct brand personality shine through.
What's the difference?
OUR MESSAGE
Is the content and information we communicate. Our messaging map helps us determine what to say.
BRAND PERSONALITY
Our brand has a distinct, multifaceted personality, and it should be evident in our communication. So when you talk, type, or put pen to paper, keep our personality traits in mind.
OUR VOICE
Is the tone we use when speaking or writing. It makes our content more approachable and recognizable.
5 QUESTIONS TO HELP YOU CRAFT COMMUNICATIONS IN THE SOUTHERN WESLEYAN VOICE
Remember to tell readers what's in it for them. Have you communicated the attributes and benefits?
Does it sound like someone with the Southern Wesleyan personality would say this?
Is it focused? There should always be a clear hierarchy that allows one strong point to rise to the top.
Are you speaking directly to your readers? Use "you" in your sentences whenever you can.
Does it relay a core message? Don't miss a chance to reiterate what we're about. Pull in ideas from the Southern Wesleyan messaging map whenever possible.