Whether you're a student or an alumnus, your success is important to us. You can depend on SWU's Career Services team to help you put your best foot forward as you start to make career moves. There's nothing we want more than to give members of the SWU family the help they need. We know how hard you've worked!
New!
Handshake is the online career service platform for SWU Career Services. Southern Wesleyan University students can use it to search for on campus and off-campus jobs and internships.
Use Handshake to find jobs/internships and make appointments.
"Career Services helped me to begin the entire process of looking for jobs from scratch…and offered me a lot of valuable advice through the time I was making resumes and cover letters. Career Services also has kept me updated of the jobs available in my field, which opened up many opportunities for me to consider. After I received the offer letter, I was also able to receive the help from [Career Services] to do the further negotiation with the company. I learned so much more than just job applications from Career Services, but also great career planning and future advice."
Sentao Zhou, 2016 Graduate, Computer Information Systems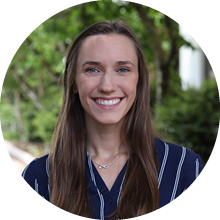 I would advise all rising juniors and seniors to reach out to Career Services to learn how to build their resume, how to interview, and how to job hunt. It has been so helpful to me and it is free, so why not?"
- Kyra Hood, 2021 Graduate, Psychology; Religion Minor
---
What Career Services can do for SWU students and alumni
Career Advising — We can help you choose a major, explore career paths, prepare to nail your job search and more.
Group and Class Presentations — We love speaking to classes and student organizations about career preparation, graduate school planning or any of the services we offer.
Assessments — We're here to help. Let's talk about your interests, preferences, values, and skills. Then, let's discuss how these factors can guide your career path.
Career Employer Connections — We host several career networking events for students and alumni to connect with recruiters.
---
Follow us for updates and tips
---
"With fifteen years at my employer, change felt uncomfortable and difficult. My career advisor helped me to develop my resume, incorporate social networking into my change strategy, and identify areas for improvement as well as strengths I could capitalize on immediately. Ultimately, I acquired the position I desired from the start of my program. I cannot overemphasize the importance of SWU Career Services in my recent career progress."


Chris Ambrose - 2016 MSML Graduate