Whether you are coming to campus for a band camp, a sports camp, or a sit-down meeting in one of the auditoriums, you and your guests are encouraged to take some time and use some of the athletic facilities provided at our Central campus. Learn more about our facilities on the virtual campus map.
P.B. Wood Golf Practice Range and M.L. Atcheson Putting Green
The P.B. Wood Golf Practice Range and M.L. Atcheson Putting Green are becoming one of the premier golf facilities in the Upstate. Whether it's working hard at your game, or relaxing in the beautiful sunshine, the golf complex boasts all the amenities needed to improve your golf game, which include a two-tiered tee box, 350-yard driving range with eight target greens, artificial putting green with green side bunker, credit/debit card-friendly automated ball dispenser, a gazebo and a picnic area.*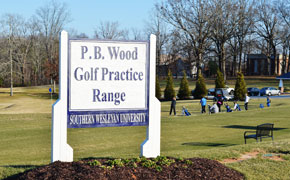 Joe R. Gilbert Track and Field
The Joe R. Gilbert Track and Field includes a 400-meter, eight-lane track surrounding the future soccer field and is located near the university's entrance at S.C. Highway 93. Also included are dual runways for the long and triple jump, two shot put rings, two distinct pole vault areas, javelin throw, hammer throw and a discus area. Runners and walkers in the community are welcome to use the track.*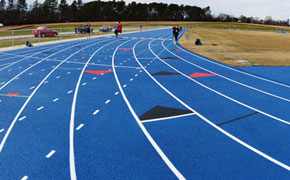 Tysinger Gymnasium
Serving the Southern Wesleyan University campus as the major recreational facility, the gym is one of the most used facilities on campus. The newly remodeled entrance area and the new wood basketball floor provide an attractive and functional facility for sports or working out.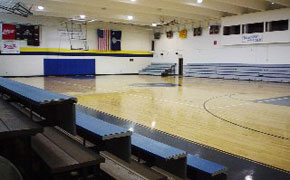 Campus Facilities
Open fields for any type of group activity, the soccer field with ample parking, the cross-country track, the baseball diamond and the softball field combine with the tennis courts near the residence halls to provide students and guests with opportunities for plenty of physical activity to balance the time spent in meetings. In the residence halls, as well as in the lobby of the Campus Life Center, large television lounges and computer labs are available for down time and for checking email while you are away from your home or office. Also, an indoor swimming pool near the campus is available for rent to groups.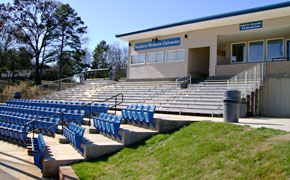 *Facilities are closed to the public when practices and competitions are taking place.