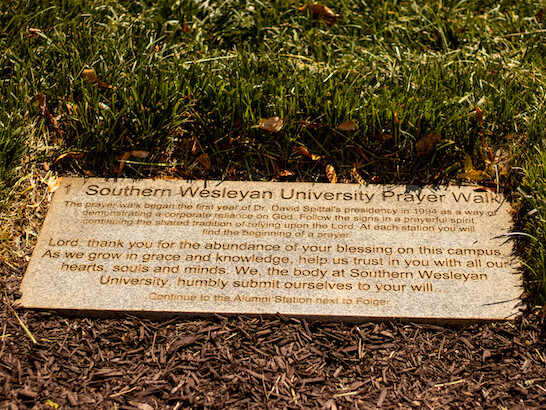 1. SWU Prayer Walk
The prayer walk began the first year of Dr. David Spittal's presidency in 1994 as a way of demonstrating a corporate reliance on God. Follow the signs in a prayerful spirit, continuing the shared tradition of relying upon the Lord. At each station you will find the beginning of a prayer.
Lord, thank you for the abundance of your blessing upon this campus. As we grow in grace and knowledge, help us trust in you with all our hearts, souls, and minds. We, the body at Southern Wesleyan University, humbly submit ourselves to your will…
Continue to the Alumni Station next to Folger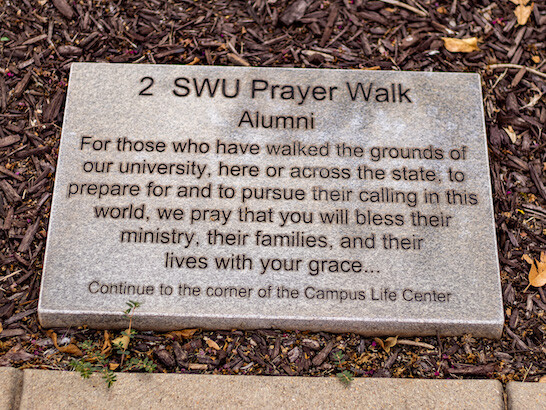 2. SWU Prayer Walk
Alumni
For those who have walked the grounds of our university, here or across the state, to prepare for and to pursue their calling in this world, we pray that you will bless their ministry, their families, and their lives with your grace…
Continue to the corner of the Campus Life Center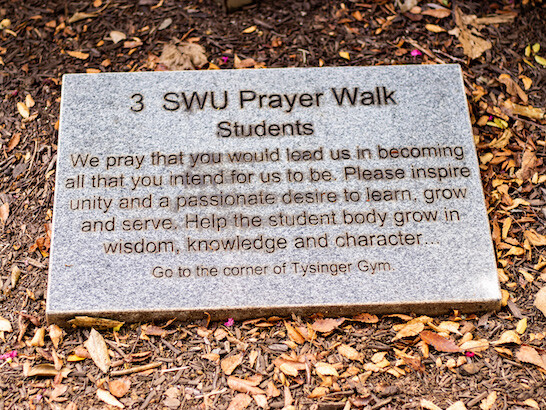 3. SWU Prayer Walk
Students
We pray that you would lead us in becoming all that you intend for us to be. Please inspire unity and a passionate desire to learn, grow and serve. Help the student body grow in wisdom, knowledge and character…
Go to the corner of Tysinger Gym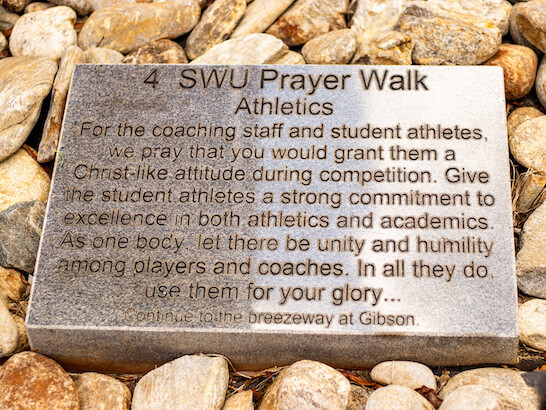 4. SWU Prayer Walk
Athletics
For the coaching staff and student athletes we pray that you would grant them a Christ-like attitude during competition. Give the student athletes a strong commitment to excellence in both athletics and academics. As one body, let there be unity and humility among players and coaches. In all they do use them for your glory…
Continue to the breezeway at Gibson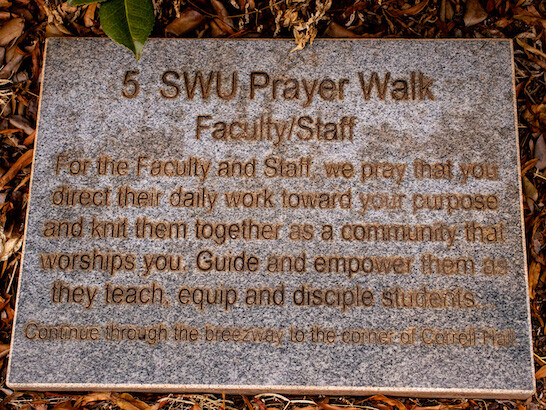 5. SWU Prayer Walk
Faculty/Staff
For the Faculty and Staff we pray that you direct their daily work toward your purpose and lead them together as a community that worships you. Guide and empower them as they teach, equip and disciple students…
Continue through the breezeway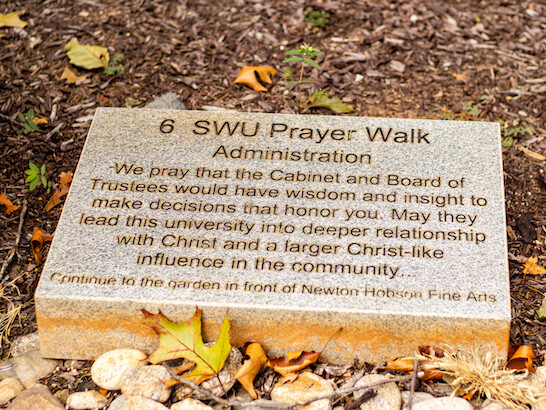 6. SWU Prayer Walk
Administration
We pray that the Cabinet and Board of Trustees would have wisdom and insight to make decisions that honor you. May they lead this university into deeper relationship with Christ and a larger Christ-like influence in the community…
Continue to the garden in front of Newton Hobson Fine Arts
7. SWU Prayer Walk
The first scripture theme in 1994 was II Chronicles 20:15
This is what the Lord says to you, "Do not be afraid or discouraged because of this vast army, for the battle is not yours, but God's."
If you look behind the second column from your right you will find an engraved brick which once sat upon Dr. Spittal's desk until Newton Hobson was built. Its name is Maison Ree.
Trust God.