Live shows and musicals for upstate South Carolina
The Division of Fine Arts at SWU is proud to produce annual musicals and stage shows for a variety of audiences in the upstate of South Carolina. Past productions include Broadway favorites such as Beauty and the Beast and The Sound of Music. Student productions take place in the 1,000-seat Newton Hobson Chapel Auditorium.
The next production is Disney's Newsies, March 26-28, 2020. This is a huge musical production with some pretty high demands considering cast size, set, costuming, etc. Our goal is to raise $25,000 in support of this production. If you would like to give a gift to Student Productions, simply text "performance" to 41444.
If you or your business is interested in becoming a sponsor, consider one of the options below. Tickets will become available online in 2020 at our Box Office page.
---
Become a Sponsor Today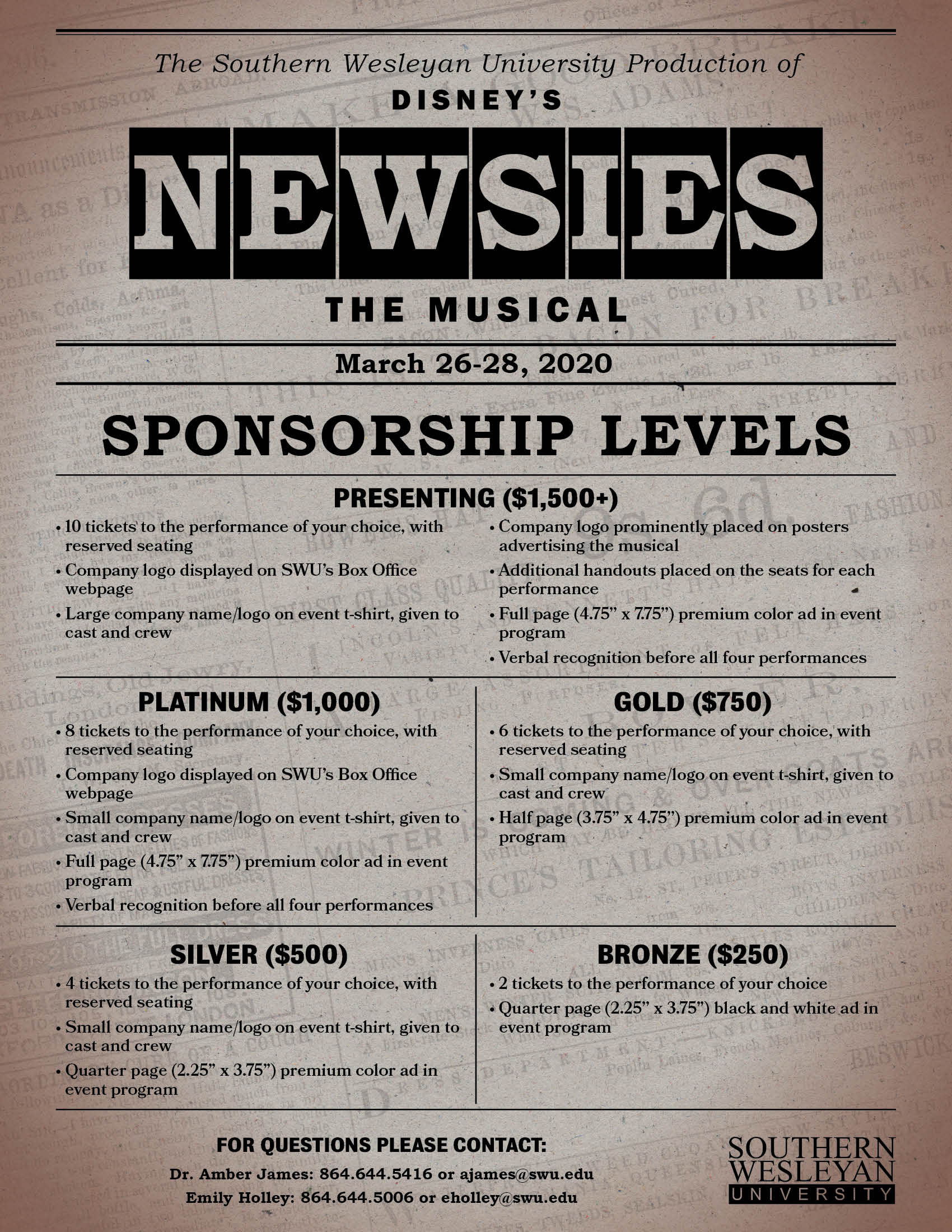 ---
Newsies Cast List
Principal Characters
Jack Kelly: Zach Wheeler
Katherine Plumber: Katie Cook
Crutchie: Brady Crocker
Davey: Leonard Hughes
Les: Elza Belser-Vick
Joseph Pulitzer: Ethan Cashwell
Medda Larkin: Misha Mercius
Newsies
Race: Ben Wyant
Albert: Justin Hart
Specs: Kit Schleifer
Henry: Ainsley Pruitt
Finch: Cullen Finley
Romeo: Jacob Clapp
Elmer: Sam Calcutt
Mush: Wesley Henson
Buttons: Emily Service
Splasher: Lyssa Henry
Tommy Boy: Livie Keaton
Jo Jo: Alex Brygger
Mike: Silas Williams
Ike: Kate Schaupp
Featured Characters
Spot Conlon: Eli Ray
Seitz: Ken Dill
Bunsen: Paul Schleifer
Hannah: Meredith Gaskin
Wiesel: Maverick Whitley
Oscar Delancey: Bradley Miller
Morris Delancey: Cole Greenlee
Bowery Beauty: Emily Hoyt
Bowery Beauty: Lynda Knox
Bowery Beauty: Lydia Kovats
Snyder: Axel Sawyer
Mayor: Richard Tysinger
Governor Teddy Roosevelt: Walt Wilson
Cameo Characters
Nunzio: Walt Wilson
Guard: Kimberly Garcia
Scab: Alyssa McClung
Scab: Abbey Ray
Scab: Jarah Roper
Goon: Landon Davis
Goon: Michael Johnson
Goon: Ben Watts
Goon: Desha Martin
Stage Manager: Monica Keever
Nun: Rhianna Elrod
Nun: Kimberly Garcia
Nun: Emily Garrett
Nun: Katherine Wiggins
Woman: Rhianna Elrod
Mr. Jacobi: Walt Wilson
Policeman: Allen Gilbert
Policeman: Scott Gilbert
Photographer: Jayden Muncy
Darcy: Kyra Hood
Bill: Christian Swindle
Man: Allen Gilbert
Cameraman: Mercedes Stone
Kid #1: Maddie Hedden
Kid #2: Madison Schaupp
Additional Newsies
Landon Davis
Kyra Hood
Monica Keever
Mercedes Stone
Richard Tysinger
Ben Watts
Teenage Newsies
Chloe Crownover
Emma Gaskin
Alyssa McClung
Disney Medeiros
Abbey Ray
Jarah Roper
Kid Newsies
Celie Belser-Vick
Selah Boyer
Anna Sophia Brown
Caroline Confer
Carys Eller
Alice Ellison
Hannah Hedden
Maddie Hedden
Julianne Keaton
Michael McClung
Jadyn Medlin
Sydney Parkhurst
Madison Shaupp
Cooper Simms
Featured Dancers
Sam Calcutt
Chloe Crownover
Landon Davis
Carys Eller
Cullen Finley
Emma Gaskin
Disney Medeiros
Jadyn Medlin
Sydney Parkhurst