University Singers take part in Change of Command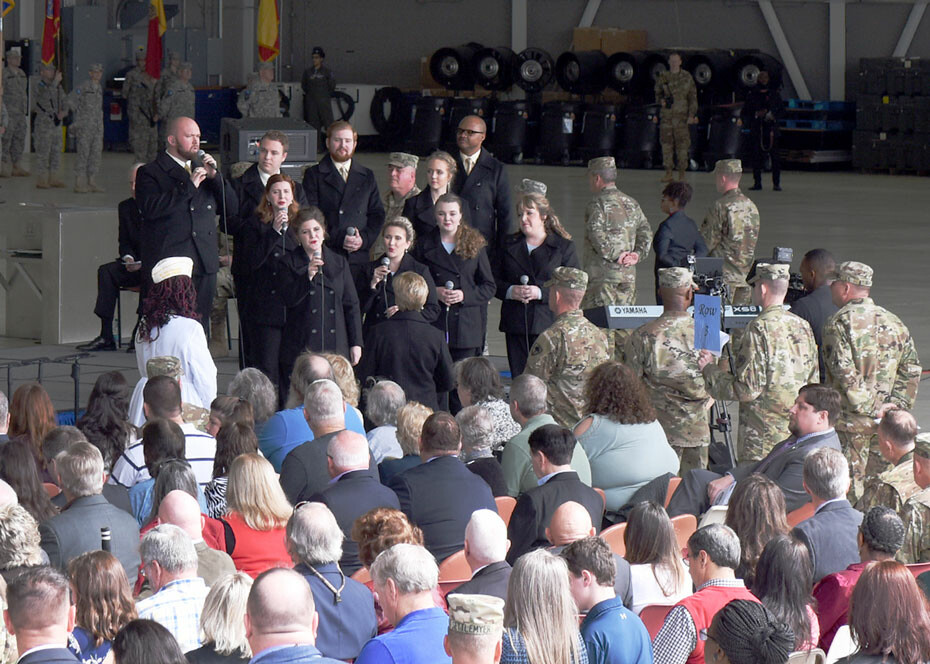 On Feb. 16, Southern Wesleyan University's vocal ensemble, University Singers, performed at the Change of Command Ceremony for the South Carolina National Guard at McEntire Joint National Guard Base, located near Columbia.
The ceremony honored Major General Robert E. Livingston, retiring following 40 years of service to the South Carolina National Guard.
"On behalf of the South Carolina Military Department, we share our deepest appreciation to the Southern Wesleyan University Singers for their outstanding performance during our Adjutant General Change of Command. Their singing 'The Battle Hymn of The Republic' and 'O God Beyond All Praising' truly touched the hearts of all in attendance and made this ceremony even more memorable. We thank them for their superb talent and professionalism and are grateful they were a part of this important and historic event," said U.S. Army Maj. Gen. Van McCarty, the adjutant general for South Carolina.
"I would not have even have thought it possible to get an invitation to the attend the change of command and retirement of Major General Robert Livingston this past Saturday at the McEntire Joint National Guard Base near Columbia, but it resulted from Major General Livingston's request to have our University Singers as the exclusive vocalists at this event. The University Singers were fantastic and the crowd loved them. The message was amazing, and pride we felt as we left the base for our military, our Singers and America was overwhelming," said Dr. Todd Voss, Southern Wesleyan University president.
"I continue to be overwhelmed at the opportunities God gives us to proclaim His love and message of salvation in unexpected places. Only God can open doors like these," said Rev. Gail Kerstetter, University Singers director.
Kerstetter added that University Singers are musical guests for the 71st National Guard Convention in Asheville, N.C.
"We will be rendering Patriotic and American Music for their Awards Banquet on Saturday evening and leading worship in the chapel service the next day alongside Chaplain Darden who will be bringing the message," she said. "It's quite an honor to be asked for the second time for this annual event. It gives us a chance to meet leaders on a state level and above. Jeff Struecker, the man for whom the story 'Blackhawk Down' was written, is one of our session speakers. Ambassador, Nikki Haley will be bringing words at the evening banquet."
University Singers, led by Revs. Gail and Bob Kerstetter, minister many times each year at military bases and for a variety of military functions, including chapels where thousands of service men and women have experienced a spiritual transformation.
Since 2012, they have traveled to bases across the Eastern U.S. and overseas at military bases in Italy (twice) and Germany. The University Singers have also performed at the Pentagon and the National Cathedral in Washington. Kerstetter is grateful to the "good people of God" for their donations that support their efforts.
Details, including a schedule and audio samples, are available at swu.edu/faith-service/university-singers.
Southern Wesleyan University is a Christ-centered, student-focused, faith-filled community that offers inventive learning experiences. The university endeavors to prepare its students to be dedicated scholars and servant-leaders who impact the world for Christ. At the same time, it's Southern Wesleyan's desire to practice contagious generosity within the surrounding community. For details about degree programs, go online to swu.edu.
Follow SWU:
https://www.facebook.com/southernwesleyan/
http://www.twitter.com/SWU_edu