Fine Arts Division about turning out good educators, servant leaders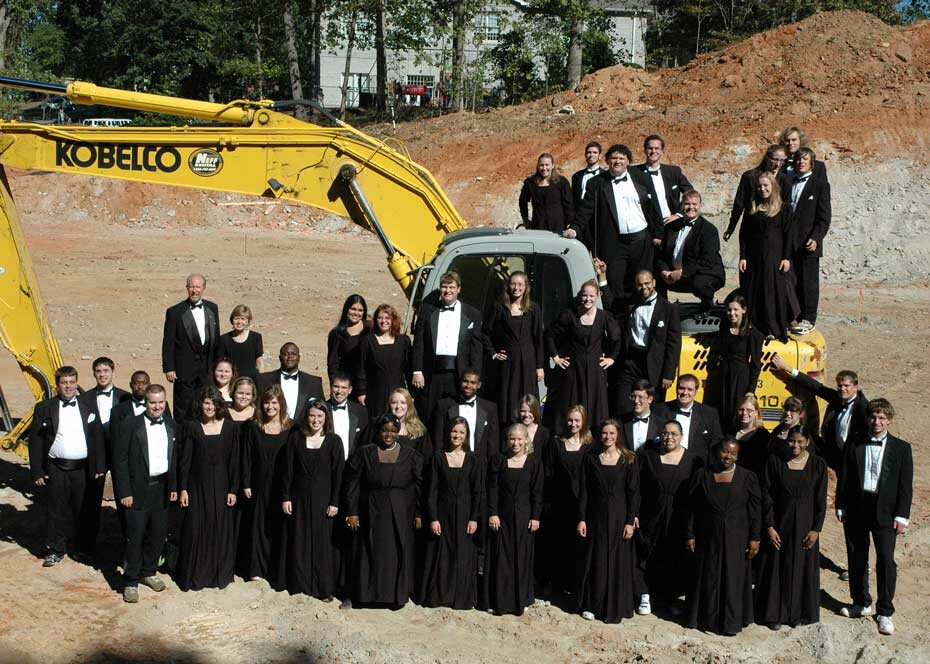 There's an excitement and vitality in the air as the Southern Wesleyan University Fine Arts Division heads into a new decade.
For Jane Dill, Fine Arts Division chair at Southern Wesleyan, there have been memorable milestones over the years, and new heights of excellence yet to be reached.
Dill points out that Dr. Amber James, a talented vocalist and SWU alumna who has taught in New York City as well as South Carolina, brings her expertise in vocal training to the division, along with new ideas and new musicals in the works, including Disney's popular musical, "Newsies."
"Taking on a musical like "Newsies" is a big task, and she doesn't shy away from that. She doesn't shy away from any event she's willing to tackle," Dill said. "She's in this for the long haul – this is the place where she's investing her life. She's extremely gifted, talented and qualified, but she also has a heart for this place. To me, that is why our department has had longevity as far as faculty who want to stay."
James continues a tradition of excellence Dill and other Fine Arts faculty seek for the division. Dr. Don Campbell, professor of music and director of the concert choir, stays actively involved in the surrounding community, working with high school choruses across the Upstate, directing the Greater Anderson Musical Arts Consortium (GAMAC) and traveling the world coaching choruses for the Barbershop Harmony Society. Prof. Greg Day conducts the Easley Community Band, directs the SWU Summer Jazz Camp, and organizes an annual jazz invitational, bringing together jazz bands from high schools and colleges across the Upstate. Dill has served as accompanist for the Concert of Hope in Anderson for several years and has been organist at Clemson First Baptist Church for about a decade.
Another new face to the Fine Arts faculty is Dr. Randolph Johnson, who is also the dean of the College of Arts and Sciences. Dr. Johnson holds degrees in theory and composition and brings expertise in teaching and administration to the SWU landscape.
SWU's influence
Dill, who teaches music classes that include piano and organ, grew up in the Pendleton area where her mother, Norma Palmer, taught piano for more than 50 years.
"It seemed as if most children took piano lessons when I was growing up, so I was constantly around music in our home," said Dill. She also grew up with an awareness of SWU, then known as Central Wesleyan College, something she's grateful for.
"I grew up in Zion United Methodist Church out on highway 187 towards the interstate. One of our choir directors was Linda Barlage. She was Wesleyan and would bring some of the Rickman family from Central Wesleyan College over to help with our choir productions, so there was a connection there with the college that never occurred to me. We were very thankful that they were willing to come over and help us with our music!" Dill said. "One of my pastors growing up was Gordon Mullinax, the son of Dr. R.C. Mullinax, one of the presidents of CWC. I don't remember being aware of his connection with the college; I just knew that Rev. Mullinax was a great pastor. He was influential to me as a teenager. He started a youth group and took us on summer camping trips."
After receiving degrees from Mars Hill College and the University of Georgia, Dill came to SWU to teach piano and theory. She recalls teaching in those early years with Leonard Brank, Barbara Bross and Joel Reed, whom she considered a wonderful mentor.
After marrying Ken Dill in 1981, she left the area when he entered seminary at Emory University to prepare for fulltime ministry. Jane and Ken then lived in North Carolina for six years while he pastored churches there. They found their way back to Central when an opening came up in the SWU faculty and she resumed teaching music. Ken came to work in student services for the new Adult and Graduate Studies (now SWU Online) program. He would eventually become chaplain and is currently associate vice president for spiritual life.
Division growth
A pivotal moment came in 2008 when the Fine Arts Division moved into spacious new facilities at Newton Hobson Chapel and Fine Arts Center. Prior to that, classes were held in cramped quarters across the street at Folger, an older building that was no longer adequate, and performances were held in an auditorium with limited resources. Now they have a large recital hall, spacious classrooms and access to a larger auditorium with an expansive stage, along with state-of-the-art lighting and sound.
"When you think about Folger (Fine Arts Auditorium) versus this, it's incredible, and the students that were here to see it being built were so appreciative," Dill said.
In addition to students who aspire to enter music education, music ministry or other music-related fields, students from other majors are drawn to Fine Arts ensembles – many auditioning for and landing roles in the division's annual spring musical. Dill welcomes this influx.
"I think we're seeing more of that, even with renewed interest in productions with kids who have never sung or danced and all of a sudden they are interested in musical events. Athletes, others – it goes across the board," Dill said, adding that Fine Arts productions have also drawn performers from the surrounding community, including children and volunteers to work behind the scenes.
"Carol Sinnamon, one of the long-time volunteers and former head of counseling services, has invested much of her life into the plays because she saw the difference that it made in students as performers and as members of a community," Dill continued. "She and her team of volunteers are busy getting props and costumes ready right now for this spring musical."
Graduates making lasting impact
Many graduates have gone on to become band directors, choral directors, church musicians and teachers; and many of those continue to make contributions to their alma mater, returning to participate in productions or provide opportunities for current students. Music graduates are busy making an impact in the Upstate, especially here in Pickens County.
"Chaz Paxton is directing the bands at Daniel High School; Jared Roper is choral director at Daniel High School and Chastain Road Elementary School; Amy Gregory directs traditional music at Alive Wesleyan Church in Central and teaches Elementary Music at Concrete Primary School in Anderson; Tad Day and Tim Lee are active performers in the local music scene; Hannah Chapman is teaching music at Central Academy of the Arts; Lee Millspaugh is working with music and worship at Trinity Wesleyan Church in Central; Heather Haithcock directs worship at Alive Wesleyan Church in Central; Ashton Langston is teaching music at McKissick Elementary School; Carrie Poole teaches private piano in the Liberty area; Darian Byrd is principal at Forest Acres Elementary School in Easley; his wife Amy is choral director at Easley High School; and Wesley Day has been an affiliate faculty member in SWU's Music program for four years."
"People see our students going out as good educators and servant leaders, which is our goal. I am very proud of this department and all of its graduates," Dill said.
Southern Wesleyan University is a Christ-centered, student-focused learning community devoted to transforming lives by challenging students to be dedicated scholars and servant-leaders who impact the world for Christ. For details about degree programs, go online to swu.edu.
Follow SWU:
https://www.facebook.com/southernwesleyan/
http://www.twitter.com/SWU_edu
http://pinterest.com/swuedu/
http://instagram.com/swu_edu