Let your name mark the way for generations to come.
ADD YOUR NAME TO THE ALUMNI WALK
Our Alumni Walk - a path every future SWU grad will travel – is paved with bricks engraved with the names and class years of our graduates, and other inspiring messages contributed by alumni and family members.
Your name can be among the first to make a lasting impression on the future.
Just donate $125 which goes to SWU Student Scholarships.

We will inscribe your brick with your name and class year - or you may choose to honor a former SWU graduate, or even add a different inscription if you like: two lines, with up to 13 characters per line. Your brick will be professionally printed and placed solidly into the walk as construction proceeds.

Your SWU diploma is more than an affirmation of your academic achievement. It is a testament to your striving to become all God intends you to be. It also empowers you, as a SWU alumnus, to inspire others to follow in your path.

Sponsoring a brick in the Alumni Walk is an excellent way to help strengthen the school today, and to leave your legacy for those who follow in your footsteps.
For details about donating bricks to the Alumni Walk, contact the alumni office at (864) 644-5524 or email Heath Mullikin at .
Southern Wesleyan dedicates Alumni Walk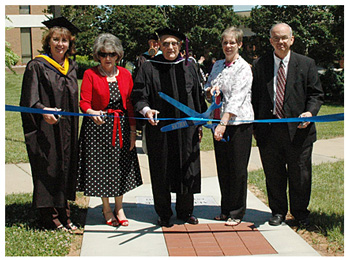 Southern Wesleyan University's new Alumni Walk was dedicated before spring graduation ceremonies May 5 on the university's campus in Central. Cutting a ribbon, from left, are Joy Bryant, executive director of alumni and constituent relations; Sue Rickman, alumni board member; Darl Fowler, alumni board member; Janene Bryson, alumni board president; and Lewis Edwards, alumni board member. After the ribbon was cut, 2011 graduates became the first class to travel the Alumni Walk, featuring bricks engraved with names and class years of graduates. Each brick represents a donation that helps Southern Wesleyan fund scholarships, invest in state-of-the-art classroom equipment, expand campus ministries and enhance other student activities. For details about donating bricks to the Alumni Walk, contact the alumni office at (864) 644-5384.
Add your name to the Alumni Walk