First Southern Sporting Clay Classic benefits Southern Wesleyan University students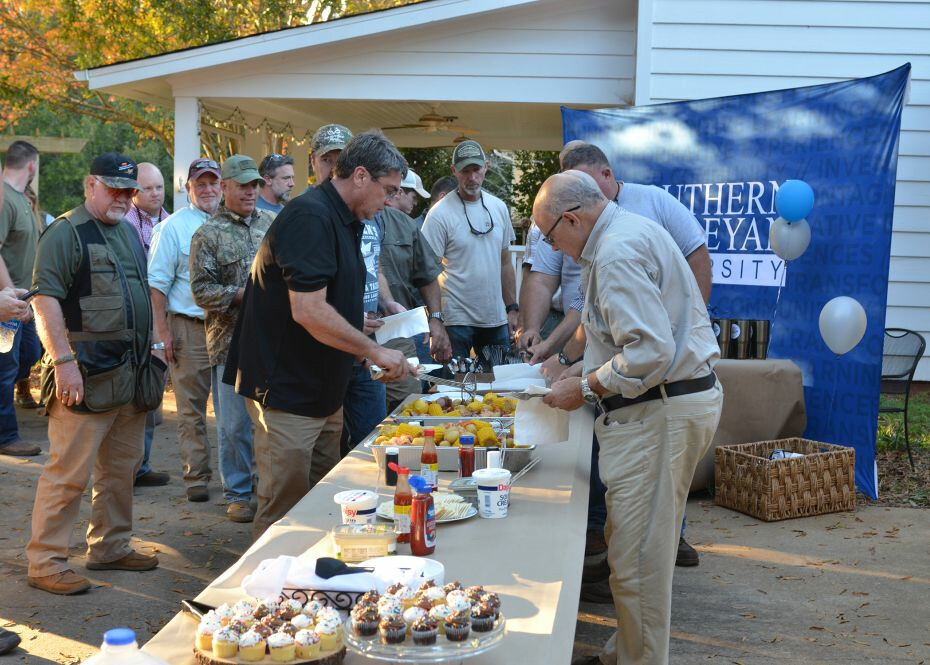 Southern Wesleyan University's first Southern Sporting Clay Classic took place Nov. 3 at McConnell Hall Plantation in Anderson.
Funds raised from the Southern Sporting Clay Classic will enhance inventive learning opportunities for Southern Wesleyan students and benefit the Promise Fund, which supports student scholarships and areas of greatest need for the University.
There were 38 participants enjoying an afternoon of clay shooting on two courses at McConnell Hall Plantation in Anderson – a sporting clay competition and a "fun" shoot where clays were launched over a pond.
Concluding the event was a Southern Lowcountry Boil dinner with oyster appetizers.
After a welcome by Southern Wesleyan University President Dr. Todd Voss, First Lieutenant Clebe McClary, USMC Retired, shared his experience of surviving life-threatening combat injuries in Vietnam when his unit was attacked by the Viet Cong, and testified about God at work in his life. McClary has traveled across the nation and in several foreign countries giving his inspirational and patriotic message.
Shooting contest winners were Radge Duncan, first-place; and John Atcheson, second place.
"We're thankful to the many participants in our first Southern Sporting Clay Classic and for our sponsors; we look forward to a great second year," said Tony Payne, Southern Wesleyan's associate vice president for development.
Event sponsors were John Ross Insurance Agency – Presenting Sponsor; First Citizens Bank and Carolina's Wealth Management – Platinum Sponsors; Triangle Construction and McDonald, Cox and Klugh, LLC – Gold Sponsors; and Twelve Mile Defense and Anderson Gun and Pawn – Partner Sponsors.
The Southern Sporting Clay Classic will return Nov. 2, 2018. For details, contact Tony Payne at (864) 644-5014, or email .
Southern Wesleyan University is a Christ-centered, student-focused, faith-filled community that offers inventive learning experiences. The university endeavors to prepare its students to be dedicated scholars and servant-leaders who impact the world for Christ. At the same time, it's Southern Wesleyan's desire to practice contagious generosity within the surrounding community. For details about degree programs, go online to swu.edu.
Follow SWU:
https://www.facebook.com/southernwesleyan/
http://www.twitter.com/SWU_edu
http://pinterest.com/swuedu/
http://instagram.com/swu_edu