Southern Wesleyan Wins National Championship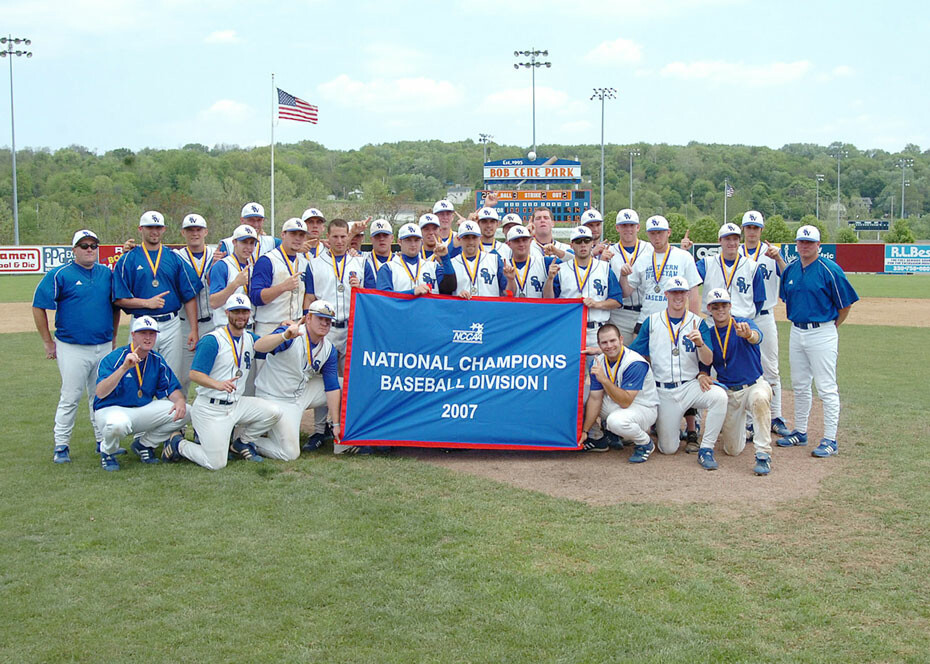 Ben Douglas picked up his second win of the series and scattered ten hits, while allowing just three earned runs in the game. Senior Michael Land worked the final inning to pick up the save in the championship game.
Kody Hightower had three hits in the game and scored three runs. Hightower was named NCCAA All-American earlier in the week and shared tourney MVP honors with Ben Douglas. The junior shortstop was also the key to starting the five run rally that helped spark the Warriors to a 9-6 win after trailing 6-4.
Kellen Kmiecik, named to the All-Tournament team, had three singles including a hit to load the bases in the rally during the 7th inning. Brandon Brown and Davey Blackburn also collected two hits in the game to help produce the victory.
While Douglas and Hightower shared MVP honors, Kmiecik and Brandon Brown were also named to the squad for their play during the tourney. Douglas picked up two wins in the series including the first win of the tourney for the Warriors on Wednesday.
"Our guys battled all year and stayed with the theme of 'prove it' ", stated head coach Mike Gillespie. He added, "They did just that and proved they are champions. It was a total team effort all year. I can't express how proud and excited I am for them. What a year."
Southern Wesleyan and Faulkner played nine games this season that included a regular three game series in the Southern States Athletic Conference. The two teams squared off again in the SSAC tourney, the NCCAA South Region and concluded the series in the championship game of the NCCAA National Tournament. The win in the title game gave SWU a 5-4 series advantage.
"I can't speak highly enough of Andy Priola and his team at Faulkner," commented Gillespie. "It seems as though we have had a season within a season with those guys. They are a great team and it was exciting that both squads from our conference were in the final game."
The Warriors ended the season 40-23 overall.