Southern Wesleyan University seeks to challenge students' development as dedicated scholars by extending when, where, and how learning occurs beyond the traditional classroom experience. The SWU Photo Story Competition makes space for inventive learning through the collaborative and creative examination of identified topics or concepts.
Definition: A photo story is an intentional use of photography as a visual retelling of a moment in time. The SWU Photo Story Competition incorporates a written component in support of the story.
Purpose: To respond creatively to a pre-determined prompt using a single photograph supported by a written statement.
Eligibility: Currently enrolled students at Southern Wesleyan University.
Topic: Legacy
Photos submitted for competition should represent the legacy that the student wishes to leave within a community either within or beyond the Southern Wesleyan University campus.
Members of the Southern Wesleyan University student body are invited to participate in the inaugural presentation of the SWU Photo Story Competition.
AWARD CATEGORIES:
STUDENT SELECTION $50.00
Entry selected as most popular by students enrolled at Southern Wesleyan University.
FACULTY/STAFF SELECTION $50.00
Entry selected as most popular by the faculty at staff at Southern Wesleyan University.
JURIED SELECTION
Top three entries selected by an independent jury of off-campus judges based on story, impact of statement, technical quality, and creativity.

First Place - $200.00
Second Place - $125.00
Third Place - $75.00
Rules:
Final date of entry Thursday, March 23, 2023.
Contestants may submit a maximum of two entries.
Entries must be the original work of the contestant.
Entries deemed unsuitable for judging or exhibition will be withdrawn by the contest officials and contestants notified by email.
Contest officials may disqualify entries that do not confirm to the established technical guidelines or do not submit signed media releases from persons whose images are represented.
Photos may be black & white or color.
Photos must be submitted electronically as a JPEG, PDF, or PNG file.
Rules of acceptable digital manipulation apply.

Acceptable adjustments include:

Correcting the white balance,
Overall color enhancements, i.e., increased contrast, overall lightening or darkening,
Adjusting overall brightness, brightness of highlights and shadowing,
Cropping.

Unacceptable digital manipulation includes:

Cloning or any drastic color changes,
Digital alterations, removal or changing of objects, or addition of special, effect enhancements.
ENTRY SUBMISSION GUIDELINES:
Each entry must be submitted in an electronic format (see Technical Requirements).
Submitted entries must include:

Completed entry form
Digital photograph
Title ("Untitled" is not accepted)
Completed Photograph Release Form
Completed Media Release Form (for the image of each person or persons reflected in the photo)
Written Description (to not exceed 100 words)

Photographic works must adhere to the principles, standards and established expectations of Southern Wesleyan University.
Photographic works must be original, independent, free from any plagiarism, and not previously submitted elsewhere for publication.
TECHNICAL REQUIREMENTS
All photo entries must be submitted in accordance with the following requirements.

High resolution
PDF, PNG, or JPEG format
Files should not exceed 24-megapixels.

Content Restrictions

Photos must not contain material that violates or infringes on the rights of others including but not limited to privacy, publicity, intellectual property rights, or anything that constitutes copyright infringement.
Photos must not promote brand names or trademarks.
Photos must be a single work of original material, in its entirety, taken by the contestant.
Photos may not contain content that is inappropriate, indecent, obscene hateful, tortuous, defamatory, slanderous, or libelous.
Photos may not contain material that promotes bigotry, racism, hatred, or harm against any group or individual or promotes discrimination based on race, sex, religion, nationality, disability, sexual orientation, or age.
Photos may not contain material that is unlawful, in violation of or contrary to the laws or regulations in any state where Photo was created.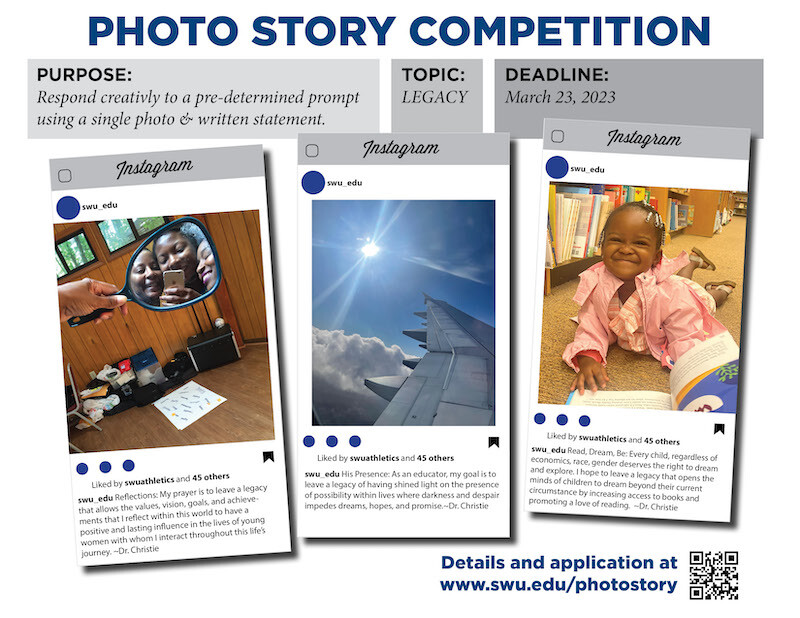 Enter Contest
CONTEST EXHIBITION
Entries will be displayed April 12 through April 19, 2023, in the Rickman Library and Student Engagement & Success Center.
AWARD PRESENTATION
Presentation of awards will occur on Friday, April 21st during the Humanities Showcase, 9:00 am – 12:00 pm in Blue Hill.
Questions?
Contact Dr. Angelica Christie at or 864-644-5082