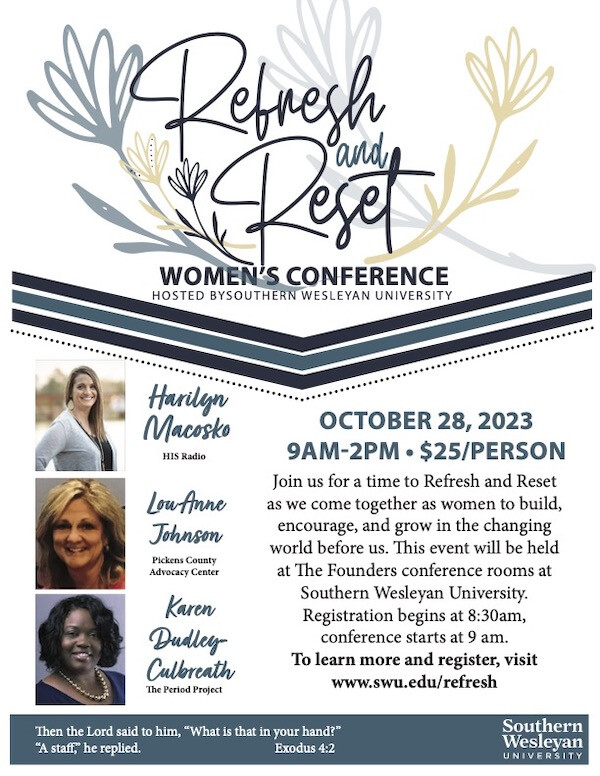 October 28, 2023 — 9 AM – 2 PM
Registration form
$25/person Includes
Continental Breakfast and Lunch
If you have questions, need special accommodations, Spanish Translator (PLEASE BRING PHONE & HEADSET)* Or a Hearing Impaired Interpreter, please contact Cindy Trimmier-Lee - 864-644-5137 or email .
Schedule Coming Soon
---
Speakers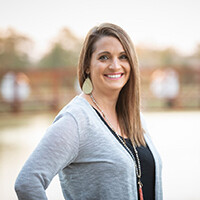 Harilyn Macosko
Hi, I'm Harilyn. I'm a child-of-God, wife of Paul, and mom to two sweet boys (Riley and Beckett). I have a Chihuahua named Zoey, who is the most ridiculously stubborn princess who absolutely loves popcorn. And the newest member of our family (delivered Christmas day 2021) is a German Shepherd puppy named Chewbacca — who we affectionately call "Chewie." And let me tell you, he has earned that name.
In middle school, a few friends invited me to a youth group event. Because there were snacks at this event, I agreed to go. (I really do love snacks that much!) It was there that I found out that the God who created the universe loved me. I didn't grow up in church. I had never sung a worship song or even heard the word of God before that. But, from that moment on, I accepted Jesus as my Lord, and my life was forever changed.
Because I didn't grow up in church, I didn't necessarily know the stories of the Bible. However, in High School, I turned on a Christian radio station and began to learn about who God was — and what God was all about through the songs and the messages I heard on that station. It was then that I realized that music speaks to people in a way that words can't. And being that I can't sing…at all…the best bet I had for impacting lives was working in radio. After that, there was nothing else I've ever wanted to do.
Now for almost two decades, I've been in radio (both on-air and behind the scenes) doing my part to make Jesus known across the airwaves. I am so excited…like giddy excited…to be a part of 89.3 HIS Radio.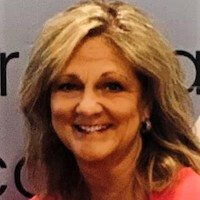 Lou Anne Johnson
Lou Anne Johnson is the Executive Director of Pickens County Advocacy Center, a sexual violence prevention and support services nonprofit organization. Lou Anne has worked in the field of behavioral health services primarily in the field of substance abuse prevention for over 30 years. She is a Lander College graduate with a BA degree in English. Lou Ann is dedicated to making a positive impact in her community by serving others with compassion, integrity, and an unwavering belief in the power of collaboration.
Karen Dudley-Culbreath
With more than 30 years of professional experience, Karen Dudley-Culbreath has consulted with global companies and government on creating efficient workplaces through people operations, process optimization, and technology implementation. She is a transformation consultant whose focus is the alignment of business and people strategies for continuous and sustainable growth. She has a vast organizational development reach which includes Process Optimization, AI Technology Implementation, Strategic Planning, Employee Relations, Performance Management, Succession Planning and Diversity, Equity, Inclusion, and Belonging. She believes people are the heartbeat of a healthy business, and consultant relationships are essential to preventing organizational heart attacks.
---

The Period Project, we're improving the lives one at a time. By increasing local, national, and global awareness of period poverty and delivering menstrual hygiene products to those in need, we're replacing poverty with community and shame with dignity. We are part of a worldwide movement of similarly focused nonprofit organizations accelerating the momentum by incubating ideas and exchanging mutual aid for the common – and greater – good. Bring products to the conference to support this organization.
To Schedule — Call 864-675-4875


Foothills Community Health Care is very active in our communities through our outreach services and provides insurance enrollment assistance by certified enrollment specialists. We believe in high quality, cost effective medical care, and patient health education and awareness. We participate with many public events in Anderson, Oconee, and Pickens counties.
Have your Blood Pressure and A1C checked on site!

We provide help and inspire hope to those affected by breast cancer through early detection, education, and support services. Visit https://www.nationalbreastcancer.org/ for more information.