The Southern Wesleyan University Alumni Association is pleased to pass along Zumper, a great resource for anyone seeking apartments in this area and nationwide. Whether it's an apartment in a complex with amenities or a house to rent, Zumper offers a comprehensive listing, updated in real-time. Zumper offers customizable searches and can alert you when a place comes up that fits your criteria. Go to zumper.com and get started! Also, view local listings now.
---

Southern Wesleyan University alumni now get up to 55 percent off hotels all over the globe.
Start your next vacation off on the right foot, perhaps in the sand of your favorite beach, on the trails of a new hiking route. No matter the destination, we want to make booking a hotel easier and more affordable for our alumni.
Just go to our exclusive booking portal. Use the password "SWU1906" to get in. Click on this link to get started.
---

Southern Wesleyan University's Office of Alumni Relations will soon offer alumni and friends a free gift that has eternal value. We are always looking for ways to serve students, faculty and alumni that will help as we encourage the integration of our faith with our learning and living. Starting Sept. 23, RightNow Media will offer instant access to thousands of great videos for all members of the family that can be viewed directly from your phone, tablet or computer. More than 10,000 video Bible studies, leadership videos, dozens of full conference sessions (Passion Conference, Catalyst, D6), and resources on parenting, marriage, discipleship, and more, will soon be available at your fingertips. Groups can also view these videos through a TV or projector. Again, it's our free gift to you, with no strings attached. Click on this link to get started.
---
Special offer promises added value for SWU Alumni
Southern Wesleyan University has begun an official affinity program through Nationwide. Over the course of the next year, SWU alumni will receive special offers crafted specifically for them. All Alumni can be confident that no private information was released in the partnership. Alumni will receive communications through their mail and/or e-mail. SWU alumni can receive discounts and special offers, thanks to this program. SWU Alumni will continue to seek out opportunities that will provide added value to being an alumnus of Southern Wesleyan. For details, contact Emily Holley, Administrative Assistant for the Advancement Division and Alumni Center, at (864) 644-5006 or email .
Click here to get a quote or find an agent.
---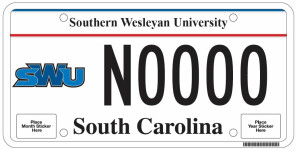 If you already have a SWU license plate for your vehicle, this information is relevant for you and if you don't already have a SWU license plate, now is a great time to do so if you have an interest. SWU receives a donation for each new plate issue or renewal, which supports The Promise Fund! For details, contact the SWU Office of Advancement at (855) 644-5008 or .