Southern Wesleyan University can facilitate your conference, corporate retreat or meeting – no matter how large or small. Clean, neat, quiet, air-conditioned meeting rooms will help all attending to benefit from your preparation for the meeting. Learn more about our facilities on our virtual campus map.
Conference Services is excited to provide our guests with service above and beyond. Ask us how we can help with your next event!
Have questions? Ready to start planning your event?
---
The Founders
The Founders is a large multi-purpose conference space in the lower level of the University Dining Commons. The space can be one large room or split into four smaller spaces using divider walls. Seating ranges from 20 to 400 based on room size. We offer on-site catering with a variety of custom menu options. The space is also equipped with audio and video equipment for your event. Watch this video to see more of The Founders.
Newton Hobson Chapel and Fine Arts Center
Completed in 2008, Newton Hobson Chapel and Fine Arts Center has an auditorium with a seating capacity of 1000. The auditorium has a spacious balcony and stage and is equipped with a state-of-the-art audio and video system. This is a great venue for large events and concerts. A Steinway piano and pipe organ are also available for use with a fee.
Alive Chapel
Originally built in the 1940's, the renovated Alive Chapel is a charming sanctuary that can seat up to 150 guests. The room has modern audio/video equipment as well as a grand piano and organ.
Bryant Lodge
Bryant Lodge is a wonderful place to rent for your next party or event. The log cabin is situated in a picturesque woodland park setting overlooking a small pond. Bryant Lodge provides a relaxing experience, along with 2800+ square feet of space. It also has two outdoor screened porches for extra room and a nearby dock at Burns Pond.
Jennings Campus Life Center
As the hub of student activity, the Campus Life Center is a very busy building on campus. It houses our bookstore, campus post office, and coffee shop. Students can watch TV on the big screen, visit Blue Hill Coffee & Tea Co., get a snack in the Warrior Court or relax in the second-floor lounge. The Campus Life Center also houses the Student Life offices, Student Government offices, and Career Services offices on the second floor.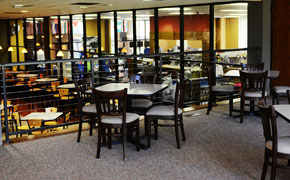 Newby Education Center
John M. Newby Education Center is an educational facility that houses classrooms, faculty offices, a faculty workroom, a break room equipped with vending/drink machines, a computer lab, and restrooms. Each classroom is equipped with audio-visual equipment. Classrooms can accommodate up to 42 people.